RPGamer's Most Anticipated Games: 2021 Edition

It goes without saying that 2020 was a year of many unexpected tragedies and losses, and, speaking globally, virtually everybody has had their life impacted in some way or another. Despite some terrific games releasing this year (more on that in our annual year-end awards coming near the end of January), there is an equally long list of titles that experienced setbacks and delays, pushed back to release in 2021 along with the many games already scheduled for this year. What follows is a very personal list, compiled by the RPGamer crew, of the titles we especially look forward to either this year or in the near future. While this by far is not an exhaustive list of upcoming games that look promising, it's a good place to start a discussion with our readers.
We hope you enjoy reading about our most anticipated games. Please let us know what games you are looking forward to in the coming year!
---
I am so excited that Atelier Ryza is getting a sequel, and even more thrilled that we are following the titular heroine again. Ryza is easily one of the best heroines to come out of the Atelier series in recent years, so it is delightful to see that this sequel looks to be built upon the framework of the first game. A first for the series is that Ryza will be able to swim, climb, use grappling hooks, and even ride monsters in this new installment. With all these new tricks up her sleeve, exploration is going to be much more of an enjoyable experience for sure. Given our early impressions, it's safe to say that Atelier Ryza 2 is going to be even better than its predecessor. — Sam Wachter

---
Despite multiple attempts, I never managed to get into the Baldur's Gate series, largely thanks to the somewhat archaic combination of its older D&D ruleset and the attempt to implement it into a real-time combat system. However, with Larian Studios given the keys to Baldur's Gate III, one has the utmost confidence in this game offering a much more welcoming gameplay experience. With the game already in Early Access, current signs are very positive. Larian Studios is absolutely not going to rush itself, nor should it, but I'm very much looking forward to what the completed project looks like. — Alex Fuller
---
The original Bravely Default was a divisive game for a lot of people. Many of those who were into retro RPGs adored the game and combat until the final stretch, which put Final Fantasy's time loop to shame. Through it all, I endured, and despite that minor hiccup I still view Bravely Default as one of the best Square Enix games to date. The graphical style, the fresh-yet-retro combat style, exploration, and storytelling all scream SNES JRPG. After getting my hands on the demo of Bravely Default II, I can safely say that any who give the game a chance will be unlikely to find disappointment. What are the odds of a second time loop, after all? — Corey Scoggins
---
Dreams Uncorporated and SYCK's Cris Tales has received lots of positive word and it's easy to see why. The game's art style looks fantastic, both still and in motion, and the developers have put some fine effort into showing off the possibilities, both of gameplay-wise and narratively, of its time-manipulation mechanic. The game promises a distinct experience and everything shown of it so far points in the right direction, it's just a matter of seeing if that holds true for the full product. — Alex Fuller
---
Disgaea is likely the series that has its tentacles deepest in me. I played the original on PS2 and fell for it very hard. I've owned every main game in the series, I've even bought a few of them more than once, so I feel like I have a pretty respectable experience with the series and what I've seen has really got me feeling pumped for Disgaea 6. Everything from the new graphical style to the huge jump in level limit just whispers in my ear that I'm going to lose literally hundreds of hours of my life to this, and, you know what? I'm ok with that. — Robert Sinclair

---
Currently being developed by Midgar Studio in France, Edge of Eternity first appeared on Kickstarter back in 2015. It combines JRPG turn-based combat and character progression systems with exploration and choices making to western RPGs to create an open-world fantasy RPG with expansive worldbuilding. Composer Yasunori Mitsuda (who has composed for Chrono Trigger and Xenoblade Chronicles) is working on the game's orchestral soundtrack, which almost guarantees that the music will be great. Not to mention the world and the character artwork look gorgeous. I'm surprised this game has not generated more buzz. — Elmon Dean Todd
---
The Final Fantasy franchise has a very special place in my heart, and even though I have enjoyed its latest entries, I have been waiting for an iconic game that matches up to those games that I consider part of the golden age (from VI to X). The trailer showed off astonishing visuals, and the information released on its website promises a story-rich approach. Powerful summonable forces — called Eikons in this game — have been part of almost every entry but tend to be relevant only during combat. However, their incorporation as part of the story seems very promising. There is still a lot we don't know, but if Final Fantasy XVI follows the line of last releases, we can expect an open-world game with a great soundtrack, impressive visuals, and an active battle system. — Luis Mauricio

---
Ever since playing Get in the Car, Loser! at PAX West 2019, I went from being vaguely interested to anticipating something unique. I'm not saying the fate of 2021 depends on a queer road trip to defeat the Machine Devil, but it sure won't hurt. Having been on zero road trips this year, with a stolen Sword of Fate or otherwise, I'm looking forward to living vicariously by talking smack, roughing up some robots, and juggling battle cooldowns. Love Conquers All Games promises all these pleasures and more coming in summer 2021. — Zach Welhouse
---
I like to think I'm a complicated person with complicated tastes, but the record is clear. Give me a deeply personal RPG that uses retro-by-way-of-Earthbound aesthetics to simultaneously celebrate and complicate nostalgia. I am there for it. I'm talking to you, Undertale, Jimmy and the Pulsating Mass, Ikenfell, and LISA. I'm also talking to Glitched by En House Studios, which takes place inside a glitch-ridden video game world. Building relationships between humans, donuts, cats, and frogs seems like the only logical course of action during times of calamity, but it's not the only path. The Essence system challenges the good-evil binary of many RPG choice systems by offering six distinct personalities for the hero Gus. I'm looking forward to seeing how deep these emotions can go! — Zach Welhouse
---
Avalanche's Hogwarts Legacy looks like a really ambitious RPG that encourages fans of Harry Potter to become part of the wizarding world. In recent years, games related to the books have been absent from consoles, but this seems like the perfect opportunity to make a magical return. Strictly speaking, this isn't a Harry Potter game, as it takes place in the nineteenth century, yet it offers a chance to dive into the magic universe presented in the books. Players are accepted as students of Hogwarts School of Witchcraft and Wizardry and decide how they are going to deal with ancient magic while they learn to cast spells and craft potions. The open-world approach invites players to explore every corner to find fantastic beasts and other mysteries. — Luis Mauricio
---
When Horizon Zero Dawn debuted in 2017, it swept me away into a grand adventure in a fantastical world, earning nearly perfect marks in almost all categories. The open-world busywork nature of the moment-to-moment gameplay is the one thing that didn't wow me, but it is more than made up for by the creative enemy designs, fascinating lore, amazing visuals and voice work, and most of all an enthralling story about the demise of mankind that had me hanging on each and every word. There's a reason it made the top spot of my RPGs of the last decade.
There was never any doubt there would be a sequel, especially since an important unresolved plot point was teased during its ending. So when Horizon Forbidden West was announced for a 2021 release, I was more than giddy. True, there are a lot of things up in the air, with a change in setting and the previous narrative (mostly) wrapped up, but with developer Guerrilla Games back at the helm, there's reason to be hopeful that lightning strikes twice. I've been looking for a PS5 system seller, and I think I've found it. — Pascal Tekaia

---
Inkulinati has the feel of Darkest Dungeon but is far less serious. Fights do not just provide a light-hearted visual style, they also allow the game some eccentric humor. Player avatars can flick enemy warriors or smash their fist down on enemies three-dimensionally breaking the 2D landscape that battles take place on. Some of the characters drawn in battle are a comedic representation of anthropomorphic warriors such as rabbit knights that combine sword mastery with the ability to fart on enemies, or braying donkeys with trumpet weapons. Games that provide comedy in their gameplay are always nice to see, and after the year the world had everyone can use a little extra comedy in 2021. — Ryan Costa

---
The Iron Oath follows a hand-picked mercenary company through the centuries. Each choice matters, changing the landscape while providing backstory to the new members hired, and hopefully the villains, as characters retire or die off. Adding to this character variety and an in-depth management of the mercenary company is amazing-looking gameplay set on a hexagonal grid with very fluid and unique looking 2D animations. The magnitude of changes that each playthrough can offer has me anticipating this ambitious strategy RPG. — Ryan Costa

---
Virgo Versus the Zodiac was a very pleasant surprise when it launched at the end of 2019, so it was only natural that developer Moonana's next title would be high on my radar. Keylocker looks like it will share much of what made Virgo so appealing, with its colourful pixel graphics, this time used for a cyberpunk setting, as well as a greater focus on music. It will be interesting to see how its new story and setting ideas are implemented and how the game builds on Virgo's combat with a turn-based system featuring real-time execution using rhythm-based inputs. — Alex Fuller
---
I have horrible memories from my childhood of playing King's Bounty on the Sega Genesis. I would go to my Nani's twice a year for holiday feasts (something else that is quickly becoming nostalgic, thanks 2020), and whenever people would finally leave me be I would go into the little side room, boot up the system, and get absolutely destroyed repeatedly. Twenty-plus years passed, during which more King's Bounty games were made that I have been playing on my stream: King's Bounty, Armored Princess, and Fire and Ice. I can say that these games are faithful recreations of their predecessor, and King's Bounty 2 should be a dominating force in the 4X strategy genre. With unnecessarily high-rendered graphics for fairies and elves, I look forward to stomping through a new world and decimating entire armies of my foes while desperately struggling against a limited gold budget and an admittedly total lack of patience on my part. — Corey Scoggins

---
2017 was a banner year for RPGs, from Horizon Zero Dawn to Persona 5 to The Legend of Zelda: Breath of the Wild. While I was playing Breath of the Wild, it became increasingly clear to me that what I wanted was a game that dealt with its backstory — into the conflict that occurred 100 years earlier, involving Link, Zelda, and the four Champions. While that game eventually came out as the Musou-styled Hyrule Warriors: Age of Calamity, a proper sequel to the game is also on the horizon. Nintendo has been tweaking the traditional Zelda formula in unexpected and adventurous ways, and it's exciting to be part of the ride when Breath of the Wild 2 releases. — Pascal Tekaia

---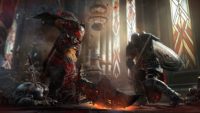 2014's Lords of the Fallen was a decent Souls-like action RPG. It didn't reinvent the wheel — which is a good thing — and it ably served up a satisfying combat experience set in a dark fantasy world. Seven years and a whole console generation later, and Lords of the Fallen 2 sounds like an exciting prospect for someone who enjoys the subgenre. Though Deck13 isn't involved this time around, and in fact the game has gone through several developer changes along its long and bumpy road, here's hoping that the wait will ultimately be worth it. — Pascal Tekaia

---
The next title in the Monster Hunter franchise, Monster Hunter Rise, has a lot to live up to after World and Iceborne, but from what Capcom has shown the upcoming Switch game is welcoming the challenge with open arms. Freedom of movement seems to have been expanded, what with the possibility to climb walls and the Wirebug, a new gadget that allows hunters to take to the air, giving hunters even more options to tackle their foes. But the absolute best addition comes in the form of the Palamute, a new hound companion. Dog lovers now have an alternative to the feline Palicos, and can let out a sigh of relief: they will be able to pet those good boys and even give them a handshake. — Gabriele Malacasa

---
I love Monster Hunter, and I love turn-based RPGs, so a love child of the two should be a match made in heaven. While I did not get to play the original, it seems like effectively Dragon Quest Joker with Monster Hunter monsters, and there's no way that can be bad. I cannot wait to slap Monster Hunter Stories 2 into my Switch. — Corey Scoggins

---
I love the aesthetic of the original The World Ends with You, from the hip-hop soundtrack to the stylish look of the cutscenes to the crazy look of Shibuya. The only thing I wasn't super crazy about was the battle system, which, though it was fun at times, also got super frustrating. NEO: The World Ends with You moving to something that still seems to echo the Pin system while being more action-oriented with free-motion has got me super excited. Though Sho Minamimoto being possibly a playable character doesn't hurt either! — Shannon Harle
---
After the success of NieR: Automata, many fans asked Square Enix to make the original NieR available on current hardware, and the company obliged with the announcement of an "upgraded" version of the game. Judging from the released trailers this doesn't look like a mere facelift, since a revamped combat system, re-recorded sound tracks and voice acting, and brand-new content will be thrown into the mix. Furthermore, this upgraded release is based upon the Replicant version of the game, which never released outside of Japan and starred a young main character taking care of their sister Yonah. While it looks like the story will reportedly stay the same, even those who have already played the original NieR seem to have a wealth of reasons to check this new release out. — Gabriele Malacasa
---
Oddity has that familiar look and feel of a particular RPG series, and was even once known as Mother 4 before the creators elected to make it its own thing and changed the name. The few images and reveal trailer were enough to hook me and leave me wanting more. While we were teased at the start of 2020 that the game was renamed and is still in development, it has almost been an entire year without any news about it. One can hope that the game ninja-drops in 2021. — Ryan Radcliff
---
There are two main reasons why I feel that Persona 5 Strikers is a game that must be played. First, Atlus games tend to have a great level of quality. Secondly, Persona 5 is one of the greatest games I have ever played, and its fantastic characters have great potential to be developed even further. The game may become an interesting epilogue to the Phantom Thieves' story, while the new approach used for the battle system by Koei Tecmo's Omega Force team promises hours of fun. — Luis Mauricio
---
Riot Forge has built an impressive world with the popular, competitive, and sometimes toxic League of Legends. In 2020, it announced a number of spin-off titles, and one that instantly caught my attention was Ruined King: A League of Legends Story. This game takes the characters from Riot's MOBA and puts them in a story-driven game, with Airship Syndicate at the helm of development. The game instantly gives off Battle Chasers: Nightwar vibes, a game that the developer worked on previously, and that, mixed with LoL's lore and legacy, was something I did not know I wanted, but now am deeply interested and invested in. — Ryan Radcliff

---
For many years, I'd resigned myself to the second of my personal top three RPG franchises being dead and gone. Then, miraculously, not only did Rune Factory 4 get nicely ported to the Nintendo Switch, but word of Rune Factory 5 brightened my 2019. The fifth title is finally scheduled for a Q1 release in Japan in 2021 and everything I've seen so far makes me so hopeful it comes west before the end of the year! Battles look glorious in full 3D and the characters and world look bright and inviting. I'm looking forward to growing the best crops and sowing the seeds of some great relationships with the townsfolk! — Matt Masem

---
I first bought and played the original SaGa Frontier upon its initial release. Coming off of other standard JRPGs during this era, I found the battle system and the lack of direction confusing and instantly hated it, and gave up rather quickly. However, I have grown to enjoy the combat mechanics of the SaGa series, so I'm looking forward to the opportunity to revisit SaGa Frontier Remastered and give it the chance it deserves. — Elmon Dean Todd

---
While we haven't seen as much from the next Tales game at this stage as we might have liked, Bandai Namco has still been working hard on other titles of interest to RPGamers. Scarlet Nexus has some Tales connections as members of its team were behind Tales of Vesperia, but feels a bit more in the vein of the God Eater series in terms of its setting and combat, which certainly appeals to me. The developer has a storied history of providing engaging action combat with flashy presentation, and that looks like it will continue here. — Alex Fuller
---
I still think of myself as a recent Megami Tensei fan, but considering that I played Devil Survivor for the first time about ten years ago, that's not quite true. Regardless, I've only dipped my toe into the mainline series, so I'm glad I'll have the chance to play Shin Megami Tensei III Nocturne HD Remaster in the near future. I heard so much about Nocturne's atmosphere, setting, story, and characters. It is post-apocalyptic, but its world is unique among many other MegaTen games. I also heard about how challenging the game is, and the many discussions about whether the most difficult fights are thrilling or unfair. I've enjoyed several difficult battles in other Megami Tensei games, including Shin Megami Tensei IV: Apocalypse and Shin Megami Tensei: Strange Journey, so I'd like to think I can meet Nocturne's challenges head-on. If not, there's always the new Merciful difficulty setting. — Cassandra Ramos

---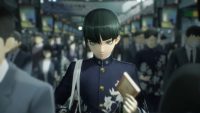 SMT's tenure on the 3DS was far from bad, but none of its entries stood out to me in any meaningful way. With Shin Megami Tensei V, Atlus seems to be returning to the sensibilities of series' pinnacle Nocturne with a game that looks to be a proper follow-up to the story and ideas of that game. Though little is known about new gameplay tweaks and concepts, what is there looks to be promising an all-out conflict the series has never shown in such fidelity. — Zack Webster

---
I picked up Golf Story for cheap and didn't touch it until much later, but what a fun little game it turned out to be once I finally put some time and effort into it. Who knew golfing mechanics and RPG systems blended so perfectly! As it turned out this was a game I enjoyed tremendously and Sidebar Games is following it up with Sports Story, a game that includes numerous new athletic competitions to play alongside smacking a golf ball with a putter and/or wedge. The game has now been delayed, and a release date for this title has yet to appear. Hopefully Sports Story finds its way onto the Switch in 2021. — Ryan Radcliff
---
Having adored the remake of Story of Seasons: Friends of Mineral Town, I have to say I am stoked for a new entry in the SoS franchise. It seems like it has been a while since we had a new entry, let alone on the Nintendo Switch. Offering players lots of newfound freedom and exploration, it feels like Pioneers of Olive Town is going to have a lot to offer for veteran fans of the series. I am excited to see how the community is going to play a role in this new entry! Boasting over two hundred unique events and a new job request system, March cannot come fast enough! — Sam Wachter
---
I've always been a bit of a Tales fan, so just in general I'm looking forward to what Tales of Arise has to offer. But after seeing where Bandai Namco went with the series after Tales of Zestiria and how much better Tales of Berseria was after a bit of development time instead of a yearly release makes me really excited just to see how Tales of Arise will shape up after three years. The fact that it's being made in Unreal 4, something that Japanese developers have slowly begun to really work with (namely Square Enix using the engine for a number of its most recent games) also has me interested. — Shannon Harle
---
A not-surprising delay pushed this sequel off to 2021, but my hopes that Vampire: The Masquerade – Bloodlines 2 is successful remains. Some of the behind-the-scenes news is concerning, but if the game can deliver on fun role-playing opportunities in a dark, rain-drenched Seattle then I'll consider the game a win. Who knows, maybe it could even be a little spooky, too. — Zack Webster
---
Ys is one of the longest-running RPG series and the latest entry, Ys IX: Monstrum Nox, continues Adol's adventures across Eresia. This time, Adol is falsely accused of a crime and sent to the prison city of Balduq where he encounters Monstrum — humans with supernatural powers. These new powers will play a key role in the game, giving Adol and his new compatriots lots of abilities to change up traversal and add verticality to the already delightfully frenetic combat. Fans of action RPGs should be excited for Monstrum Nox when it launches in February. — Joshua Carpenter
---
We hope you enjoyed reading about our most anticipated games. Please let us know what games you are looking forward to in the year (or further) ahead either through the comments, social media, or our dedicated Discord server!