Solasta: Crown of the Magister – Palace of Ice Deep Look
Palace of Ice raises the stakes with high level combat and more player choice.
Two years ago, Solasta: Crown of the Magister brought the Dungeons & Dragons 5e experience to RPGamers, simulating the tabletop experience with a high degree of success. Over the next eighteen months, the game received two DLCs, with one of them offering a mini-campaign that gave players a great reason to try out a new party combination than they used in the base game. Developer Tactical Adventures has now expanded its offering with another substantial adventure, Solasta: Crown of the Magister – Palace of Ice.
Combining Palace of Ice with another DLC, Primal Calling, RPGamers have even more choices for character creation, including gnomes, warlocks, and monks. The warlock can cast high-level spells several times between short rests, along with unlimited, powerful cantrips. The monk dominates the battlefield with special Ki abilities that allow her to move quickly, take defensive actions, and use a flurry of blows for extra offensive firepower. Palace of Ice also adds classic monsters and environments, such as icy dwarven mountains and lava-filled caverns. These can be utilized with the dungeon maker and combined with the additions of prior DLCs, giving dungeon masters a huge variety of ways to create new adventures.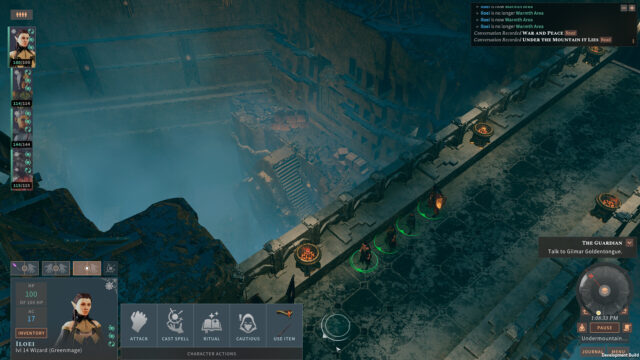 However, Palace of Ice's biggest addition is a new campaign, that while a bit shorter than the original game's offering, feels satisfying. This campaign continues the story of the base game and even allows players to import their saved characters from that campaign. Characters start off at a minimum level of 10, with a newly-created party coming appropriately kitted out, and have the opportunity to play up to the new level cap of 16 in this expansion. If players opt to create a new party, they will start off at level 10 with appropriate gear as well.
The Palace of Ice campaign has the party continuing to deal with the Sorak threat. However, when it becomes clear that the Soraks are working side by side with demons, the stakes are raised, and the party has to work to bring various factions together to stand up to this larger threat. The adventure feels more straightforward than the Lost Valley DLC journey, but no less satisfying. For a higher level experience, leveling happens quickly, and RPGamers can expect to hit the level cap of 16 in under a dozen hours. It should be noted that a few bugs popped up during the playthrough, but nothing significantly detracted from the experience.
This new, high-level adventure gives fans of Solasta: Crown of the Magister new reasons to jump back into the game as Palace of Ice raises the stakes with high-level combat and more player choice. The new campaign does not have deep writing or even some of the clever dialogue found in the original. However, it provides narrative motivation to go on this new journey and fling around high-level spells and abilities at a variety of bad guys. The selection of high-level spells feels a bit limited, but the increased list of classes and races helps to make up for that shortcoming. Those who enjoyed Solasta: Crown of the Magister should purchase this DLC without hesitation.
Disclosure: This article is based on a copy of the expansion provided by the publisher.