Trails of Cold Steel III PC Demo Released
NIS America has released a demo for the upcoming PC version of Nihon Falcom's The Legend of Heroes: Trails of Cold Steel III. The demo is available to download via Steam. The publisher also announced a Digital Limited Edition for the PC version. The edition will include all of items of the Thors Academy Edition for PlayStation 4 and Nintendo Switch, but with a download code instead of a physical copy of the game, and is available to pre-order from NIS America's online store for $99.99.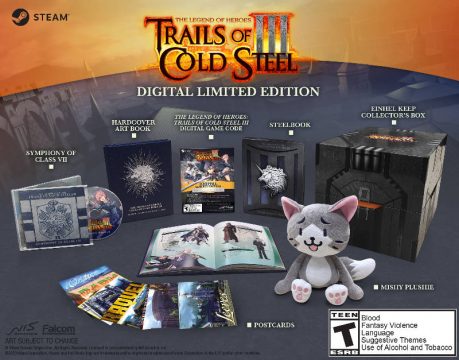 Trails of Cold Steel III is the third part of the Cold Steel subseries following Trails of Cold Steel and Trails of Cold Steel II, and is part of a wider setting that also includes the Trails in the Sky games. The game follows previous protagonist Rean Schwarzer as he begins his new role of an instructor at a newly-established military academy campus in the Erebonian Empire. A new five-minute trailer, viewable below, offers an overview of the game.
Trails of Cold Steel III was originally released for PlayStation 4 in North America and Europe in 2019 and won RPGamer's Best Turn-Based RPG Award while finishing runner-up for the Game of the Year Award. The PC version is set to be released worldwide on March 23, 2020, with a Nintendo Switch version set to launch in spring 2020. Those wishing to read more about Trails of Cold Steel III can check out RPGamer's review. The fourth and final part in the Cold Steel subseries was released in Japan in 2018.