Solasta: Crown of the Magister Review
A Party-Based Party
Over the years, RPGamers have received a stream of computer role-playing games featuring various versions of the Dungeons & Dragons ruleset. However, very few of those games focused on a turn-based combat system. Solasta: Crown of the Magister addresses this shortcoming and features a full campaign set in a new world. Utilizing the fifth edition ruleset, Solasta provides a refreshing experience, even while falling short in a few key areas.
The main story driving the adventure forward feels a bit cliché. Many years ago, a great cataclysmic event took place and most of the races (elves, humans, dwarves, etc) of the world fled through a portal to a fresh land to begin anew. This peace does not last, as trouble brews in one of the outposts causing the rulers to send a group to investigate as tensions rise. This leads to larger problems and a quest to save the people. To make the adventure more exciting the main enemy can disguise themselves, making one question who is a friend and who is a foe. Unfortunately, the latter half of the story feels rushed and never fully explores some intriguing premises it sets up in the first half.
While the story misses opportunities to create a memorable experience, the character interactions do not. RPGamers will create a party of four characters who each have their own personality. In prior games of this type, players often had to choose between pre-made party members with voice-acted interaction or silent, player-created teammates.  Solasta breaks the mold by giving player-created parties full voice acting and interesting personalities. Some of the best interactions of the game happen when various party members begin to joke around with each other during the adventure. In this, Solasta sets a bar for all other computer-style role-playing games.
Solasta: Crown of the Magister succeeds in large part in recreating the tabletop experience of a fifth-edition adventure. Many strengths and weaknesses come directly from that system, as Solasta does a good job implementing the rules of the tabletop game. Players start by choosing from seven classes and five races. Unfortunately, the game does not include some of the classic choices such as barbarian and Half-Orc. Thankfully, each of the classes offers sub-class options, which gives some much-needed depth and choice to the character creation process.
The characters are then introduced in a tutorial that integrates them into the story based on customizable background choices. This does a great job of teaching players the rules of fighting, solving problems, and spell-casting in a way that contributes to the overall experience. By the end, players will understand the finer points of fifth edition combat, even if they never played the pen-and-paper version. As an added bonus, they will understand their own characters better.
This helps as players spend the majority of their time in the game's turn-based combat. The computer rolls for characters' and monsters' initiative and the highest number goes first. Whenever a character or monster attacks, at least one 20-sided die is cast. In a very nice touch, the game shows the dice rolled on the screen, really drawing the player into the experience. Furthermore, players can even choose from a variety of dice for added customization.
Along those lines, the game allows much customization regarding the difficulty of combat. Players may modify everything from enemy damage to player defense values, which prevents too much frustration when hitting a difficulty spike. For the most part, the computer plays enemies competently, and bosses put up quite a fight. Both allies and enemies use auto-pathing, with combatants avoiding the detrimental areas of the battlefield rather than rushing through them, forcing players to plan tactfully. This provides the combat with many satisfying and enjoyable outcomes that are sure to impress.
Following Dungeons & Dragons fifth edition rules, leveling up feels simplistic and offers little in the way of choice. Some additional decisions at certain levels introduced by the sub-class system help here. However, caster classes have a distinct lack of choices compared to prior iterations of the ruleset. This is partly due to Dungeons & Dragons' prohibitive concentration rule. Many spells require concentration, and a caster can only maintain one such spell at a time. Therefore, learning various spells that require concentration feels like a waste. A few other spells were omitted likely due to design limitations. This combination takes away from the joy of leveling the weaker caster classes from delicate adventurers to absolute powerhouses.
Solasta does finally add wall-climbing and flying, a feature lacking in many computer adaptations of this venerable pen-and-paper game. Many fights feature substantial elevation in the terrain, as well as enemies who will attack from above and below the party. While interesting to see done well, the novelty of this wears off as the mechanic is overused and slows combat too much.
The game does allow for some item creation, though the system may also be ignored as the loot dropped from monsters and found in treasure chests is of the same or better quality. A guild reputation system also exists in the game. Earning favors with the various guilds may unlock discounts and a larger variety of services and goods for sale. However, it feels a bit tacked on and lacking. This would have been a great way to add more needed depth to the overall experience.
There are numerous interactions between the party and various NPCs in the game. Oftentimes, the game prompts a party member to respond from among the four. These conversations, despite having a bit of flair added to them, have no consequences on the story as a whole. This approach still feels refreshing compared to most party-based tabletop RPGs where only the party leader handles interactions and decisions. Unfortunately, each character can only grow so far within a plot that misses many opportunities to delve deeper.
The graphics and design do a decent job of drawing players into the experience. Adventurers visit a variety of environments that keep things fresh. Occasionally, new armor brings a fresh look to a party member, though a larger selection would help. Character models appear stiff and poorly animated, while monsters and spell effects look fine. The music and sound are standard fare. The sound effects themselves fit during fights, and voice acting is a nice touch when present. While both lack consistency, it's not enough to detract from the experience.
Overall, Solasta faithfully recreates much of the experience of a fifth edition Dungeons & Dragons adventure with a focus on satisfying combat. It also takes a fresh approach to some of the common tropes, though most of them clearly needed more time and focus to reach their full potential. The game provides an excellent introduction to not only its pen-and-paper counterpart but computer-style role-playing games as well. In the end, Solasta provides a fun, if somewhat short, ride that most will enjoy.
Scores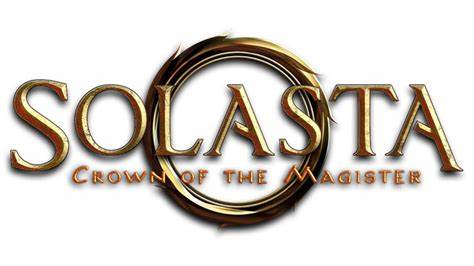 A faithful adaptation of Dungeons & Dragons 5th edition rules




Tactical combat is satisfying and rewards planning




The interactions between party members keep things interesting



Low variety of feats and spells




Missing key classes and races from the source material




Overall plot misses some clear opportunities