Death's Gambit: Afterlife Release Date, Physical Release Announced
Serenity Forge and White Rabbit announced that Death's Gambit: Afterlife will release digitally on September 30, 2021. Death's Gambit: Afterlife will see the game being released on Nintendo Switch, with the Afterlife expansion content also being freely released on PlayStation 4 and PC. In addition, Serenity Forge announced a physical release of Death's Gambit: Afterlife on Nintendo Switch. The edition is available to pre-order from Serenity Forge's website for $34.99 and includes a double-sided poster, a set of nine stickers, and an illustrated inner coversheet. The physical edition is expected to ship in January 2022.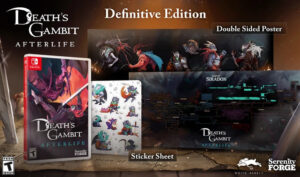 Death's Gambit is a 2D action RPG where players take on the role of the Reaper of Death in a gothic world filled with challenging beasts, knights, undead guardians, and more. The game originally released in 2018 for PlayStation 4 and PC. Afterlife includes ten new levels featuring six new bosses, twenty-two new weapons, multiple endings, and an expansion to the game's talent tree, bringing its total to over 100 talents.