Limited Run Games Announces More RPG Releases
Limited Run Games held its second annual E3 presentation, where it revealed many of its upcoming limited run physical releases. The presentation features a good selection of RPGs, including some in the publishers' final slate of PlayStation Vita releases. Kemco's Revenant Dogma and Arc System Works' Damacus Gear: Operation Tokyo and Damascus Gear: Operation Osaka will all receive physical PlayStation Vita releases later in 2019.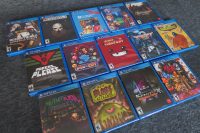 Limited Run Games announced three other physical RPG releases coming to both PlayStation 4 and Nintendo Switch. Supergiant Games' Transistor will be available on July 5, 2019. Cellar Door Games' Rogue Legacy will be available on July 19, 2019. The Arcade Crew and Hibernian Workshop's Dark Devotion will be available sometime in Q4 2019.
In its final RPG reveal, Limited Run Games announced that it has partnered with Deep Silver and Ys Net to be the exclusive distributor in North America of Shenmue III's collector's edition. The edition includes a copy of the game for PlayStation 4 or PC, a set of iron-on patches, a set of stickers, a double-sided mirror, and a Shoji-styled desk lamp. The edition will be limited to 4,000 copies on PlayStation 4 and 1,000 copies on PC and released on November 19, 2019. A regular physical edition will be distributed by Deep Silver.