Scarlet Nexus Launching in June, Anime Series Announced
Bandai Namco announced that action RPG Scarlet Nexus will launch on June 25, 2021. The game will be available digitally for PC and physically and digitally for PlayStation 4, PlayStation 5, Xbox One, and Xbox Series X|S. Two special editions have been announced. A Deluxe Edition will be available for $79.99 that includes:
Digital copy of Scarlet Nexus for PC, PlayStation 4, PlayStation 5, Xbox One, or Xbox Series X|S
Digital art book
Original soundtrack download
In-game Special Battle Attire Set -Red-
In-game additional attachment "The Other"
Three in-game SAS Plug-in variations
A physical Guardians Edition is currently available to pre-order from Bandai Namco's European store (North American availability has not been announced) for £99.99 on consoles or £89.99 on PC that includes:
Physical copy of Scarlet Nexus for PlayStation 4, PlayStation 5, Xbox One, or Xbox Series X|S or a digital PC code
Three A4-sized "Others" art prints
Hardcover A4-sized art book
OSF sticker
SteelBook case
Digital contents of the Deluxe Edition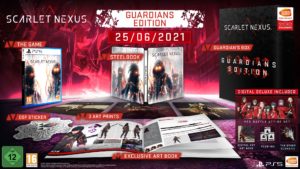 In addition, Bandai Namco announced an anime series for the game. The series is being produced by animation studio Sunrise and will be available to stream through Funimation this summer. The exact relation to the game is not confirmed, but it will star the game's two main protagonists, Yuito Sumeragi and Kasane Randall.
Scarlet Nexus is set in the far future after a psionic hormone is discovered that enables humanity to obtain psychokinetic abilities. Coinciding with the new power, mutants known as Others descend from the sky and exhibit thirst for the brains of humans while being impervious to regular attacks. However, those with psionic abilities are able to strike back and are recruited into the Other Suppression Force.