Blightbound Early Access Impression
The gameplay is enjoyable when one has a couple of friends to enjoy running through the fast-paced combat with, but there's just not really much else to it at this stage.
Ronimo Games' Blightbound is an action-packed multiplayer dungeon-crawler recently made available on Steam Early Access for PC. The game sees three players join up to fight against groups of enemies while charging through assorted missions. In its current Early Access version, there is some interesting gameplay, but a lack of any real direction for players makes it more challenging to get into than it needs to be.
The game provides a brief single-player tutorial where players learn the basic attacks and roles of the three initial characters available — which fall into the usual tank, damage-dealer, and healer archetypes — after which it's up to players to join up with others. Players can team up with a combination of local players, Steam friends, or matchmade parties from the server, with the matchmaking so far being relatively quick.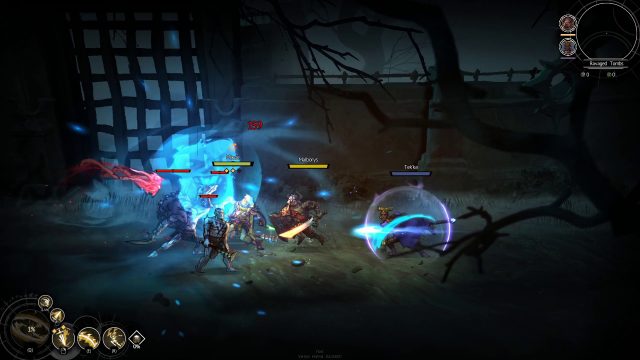 This leads to the cycle of the game, where the party goes through missions that involve them running through dungeons, beating up whatever threats get in their way with a boss fight at the end. Doing this raises the player's refuge, which in turn unlocks more character bonuses and options, such as being able to equip or craft new gear. Sticking together with the same party is encouraged through a notoriety meter, which grows with each mission the party completes, unlocking greater challenges with higher rewards.
Each character in the game fulfills a certain role in the usual vein of tank, damage-dealer, and healer. Each also has their regular attack and dodge options, as well as a number of skills more specialised to their roles. These skills have either a timed cooldown or require some form of recharge, such as the mage needing to pick up mana dropped by enemies to be able to cast certain spells, including his crucial healing spell.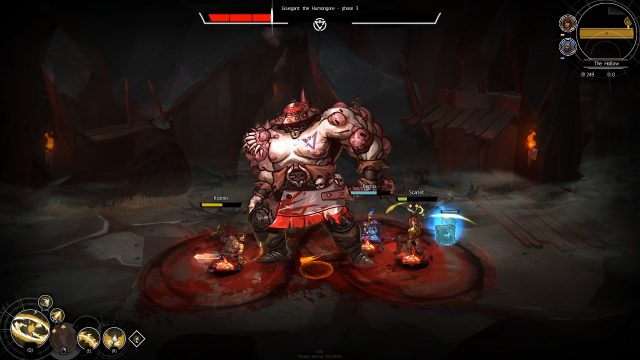 Combat is fast-paced and has a very hack-and-slash feel to it, though there is certainly some strategy required from players. The different characters feel nicely suited for having separate roles, but when the fighting starts it's very easy to just get lost in all the chaos unfolding. The attempts at encouraging party synergy look like they have legs and the quick communication system — voiced by the heroes — is effective, though it does feel like one strong player can carry the others through. Dungeons also have traps, but the timing on these is such that it almost feels easier to just plough through any damage rather than trying to get through them safely. Revivals are freely available provided one party member still stands.
At this stage in Early Access, it's too hard to come to any conclusions about Blightbound. The gameplay loop works well when one has a couple of friends to enjoy running through the fast-paced combat with, but there's just not really much else to it at this stage. The graphics work well, even if the game's dank setting is at this point very familiar. The hub area and feedback given to players at the moment are very limited information-wise, and there's no real plot to follow, so it's difficult to judge how well the game will retain the players it does get when it fully launches. There's certainly potential here, but it's still to be fully realised.
Disclosure: This article is based on a free Early Access copy of the game provided by the publisher.