ELEX II Releasing in March
THQ Nordic announced that Piranha Bytes' action RPG ELEX II will release on March 1, 2022. The game will be available physically and digitally on PC, PlayStation 4, PlayStation 5, Xbox One, and Xbox Series X|S. A $149.99/€149.99/£139.99 Collector's Edition will be available that includes:
Physical copy of ELEX II
SteelBook case
9.2-inch Alb figurine
Official soundtrack CD
"Cassandra" concept album by Björn Pankratz
Official art book
2-inch Cleric's amulet key chain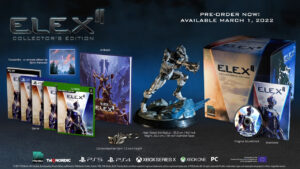 ELEX II is a sequel to 2017 action RPG ELEX. The game is set some years after the events of the first game, with the planet Magalan enjoying a period of peace as new factions rise in place of the vanquished ones. However, protagonist Jax returns bringing news of a new threat to Magalan, and must unite the new factions in order to overcome it.