Shenmue III Complete Edition Announced for PS4
Limited Run Games has announced a limited Complete Edition for Shenmue III. Only 3,000 copies of the PlayStation 4 edition are available to order from Limited Run Games' website as of 10 a.m. (Eastern time) today. The edition is priced at $149.99 and includes:
Physical copy of Shenmue III for PlayStation 4 with all DLC included on disc
Hotel Niaowu welcome card
Chobu Chan and Bailu Chan figurines
Commemorative Dreamcast jewel case (no Dreamcast game disc included and pending licensor approval)
5-inch die-cast Sword of Seven Stars replica
Golden Goose VIP card
Bailu herb map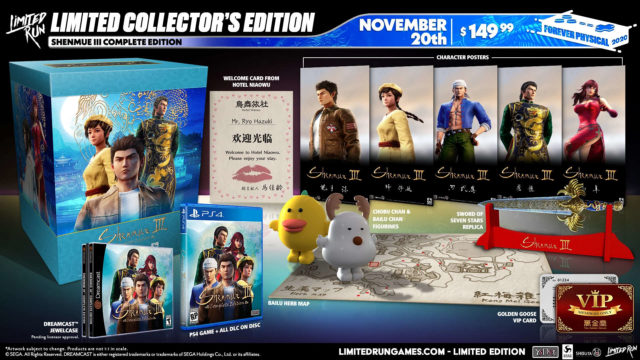 Shenmue III released worldwide for PC via the Epic Games Store and PlayStation 4 on November 19, 2019, with the game also made available on Steam this week. Three pieces of DLC are currently available: "Battle Rally", "Story Quest Pack", and "Big Merry Cruise". Those interested in the game can also check out Elmon Dean Todd's review of the PlayStation 4 version.