Final Fantasy Brave Exvius Interview
Square Enix's Final Fantasy Brave Exvius is a free-to-play RPG on iOS and Android. With the game recently passing the fourth anniversary of its international release and still going strong, RPGamer was given the opportunity to interview producers Kei Hirono and Hiroki Fujimoto and discuss their process for adding new content to the game, as well as some of their future plans.
---
RPGamer: Congratulations on reaching the fourth anniversary for Final Fantasy Brave Exvius internationally. What do you think has made the game so successful?

Kei Hirono, Producer: Ever since the planning stages of this game, we've always approached it with the intention of creating a Final Fantasy game that we like — a Final Fantasy game of our own. I think that's the reason that as a result, we've been able to become the most downloaded (i.e. most recognized by people around the world) among Final Fantasy apps.
Hiroki Fujimoto, Producer: I think a major reason is that it has all the elements that are important to it as a Final Fantasy RPG, meaning the story, battles, and exploration, built solidly into it. Another point that I think players appreciate is that new stories and events are offered every month in eight different languages.
RPGamer: Can you give an overview of the new content you're adding to mark the anniversary as well as beyond that?

HF: Starting from August 20th, we introduced to the game a completely new type of unit with different abilities. Of these units, the first to arrive is Cloud from Final Fantasy VII Remake, which has shipped over 5 million copies worldwide. Additionally, we've announced the arrival of two new global original units. These characters are Starlight Elena, a warrior of the crystal, and the ninja, Yoshikiri. Their background is that they both appear in Fundamental Forces, a graphic novel popular throughout the world of FFBE, but rumor has it that they exist in real life, too… It makes me very happy to see such an overwhelming response to them from the players.
RPGamer: How do you go about determining the direction for new content? Does a major theme come first or is there a smaller idea that builds into a theme?

KH: As far as new story content goes, we take a top-down approach. We start by deciding on an overall theme, and then we flesh that out by imagining how the characters would face that theme and further grow from it, considering how they've grown so far. Of course, we also add in some additional dashes of flavor later, such as things we think would be fun or unexpected if they were to happen. The same goes for the characters who appear in the story.

In contrast, for new in-game content, we analyze our users' gameplay activity and tendencies thus far, using numerical data to determine the direction we want to take and then fleshing that out, so it's a bottom-up approach.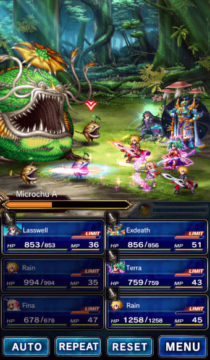 RPGamer: How far ahead do you go in planning new content? Are any future seasons already mapped out?

HF: This is something we introduced during our 4th Anniversary Livestream, but we have plans that include events up through next spring or so, in 2021.

We also have various other things we're planning in addition to those, but as we proceed with development, we're going to keep looking at the players' gameplay activity and KPIs, referencing comments sent to us through social media or customer service, and taking into account the voices from the community, for example.
RPGamer: Are there any plans to integrate the story of Brave Exvius with War of the Visions beyond cameos and crossover events?

KH: Not at the moment. But, I would love to make this a console game someday, in which case I would explore whether there's something we could do about that.
RPGamer: How much collaboration is there between the Brave Exvius and War of the Visions teams?

HF: As the FFBE series producer, Mr. Hirono keeps track of the FFBE series and lore overall, and he's also the producer of the original Japanese versions of both FFBE and War of the Visions FFBE. Meanwhile, I oversee the global versions of both titles. Therefore, there's constant communication and collaboration.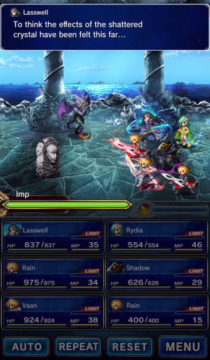 RPGamer: Do you have any future collaborations with other series/properties in the pipeline?

HF: Yes, we do have a few collaborations with other titles in the pipeline, but I'm not able to say anything just yet. Please look forward to hearing more about them! Once they've been finalized, we'll be sharing updates through in-game notices, our social media, and official videos, so please check back for those regularly.
RPGamer: Are you considering new ways to ease beginners into the large pool of content that Brave Exvius has to offer after four years of updates?

HF: We've been operating this title for over a full four years, so we're careful about making sure that players don't feel daunted by the thought of jumping in. We conduct campaigns on a regular basis that are for people who have just started playing.

We've also made it possible for players to choose a unit they like from the Final Fantasy series so that they can immediately place that unit into their party to take into battle. This is so that even first-time FFBE players can join in right away with the latest content.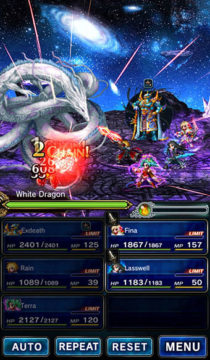 RPGamer: What are some of the challenges of introducing new characters (such as game balance) and how do you try and address them?

HF: The first thing we think about when introducing a global original unit is whether that character is an inhabitant of the same world of Lapis where Rain and his companions reside, or whether the character is from another world but has been physically manifested here through the power of visions.

Our approach to creating that unit will differ depending on that. If the character does turn out to exist in the same world as Rain and his companions, we'll also work with the scenario team for the Japanese version so that we can flesh out a solid setting for that character. We make sure that the unit could potentially meet Rain and his companions whenever, wherever, and that it makes sense in terms of lore. In order to accommodate this step, creating these units takes that extra bit of time.
RPGamer: How much has the player community/feedback helped drive the game? Do you have any messages you'd like to pass on to the players?

KH: We've improved the game thus far by receiving various feedback and addressing it. A live ops game is nothing without its players, so moving forward, I hope to continue growing and evolving together with you all.
HF: We use customer service inquiries, social media comments, and community feedback as reference to help us develop content and improve the game. FFBE has grown alongside players around the world and has now been able to celebrate its fourth anniversary. Thank you as always for playing the game. I want to keep developing content that you'll enjoy, so I hope you'll continue supporting us along the way.
---
RPGamer would like to offer our thanks to Mr. Hirono and Mr. Fujimoto for their time and for answering our questions, as well as to Fortyseven Communications for facilitating the interview. Final Fantasy Brave Exvius is available to play for free now on iOS and Android.