Final Fantasy XIV: Shadowbringers Announced
To kick off this weekend's Final Fantasy XIV Fan Fest in Las Vegas, Square Enix has announced the newest expansion for the MMORPG. Final Fantasy XIV: Shadowbringers will bring the game to version 5.0 and will be released for PC and PlayStation 4 in early summer 2019. The expansion was the focus of the keynote presentation hosted by Producer and Director Naoki Yoshida and Localization Lead Michael-Christopher Koji Fox.
The storyline of Shadowbringers will focus on the growing conflict between the six allied nations and the Garlean Empire. Storyline elements will include Emperor Solus zos Galvus, Elidibus and the Ascians, and the full nature of Hydaelyn and Zodiark, with the player character having to take on the mantle of the Warrior of Darkness.
Shadowbringers will add multiple new jobs (classes), but no announcement was made yet as to what these jobs might be. The expansion will also continue the pattern of its predecessors and provide an increased level cap from 70 to 80. As with the previous Stormblood expansion, Shadowbringers will feature battle system maintenance as the development team reexamines all of the class actions, which will see some removed or altered. Meanwhile, the two separate resources of MP and TP will be combined into single MP resource, and healers will benefit from new visual signifiers.
Naoki Yoshida also revealed a couple of new areas: The Rak'Tika Greatwood, a green forest with swamps and ruins, and Amh Araeng, a desert-type area. Shadowbringers will introduce new primals and new Beast Tribes, one of the Beast Tribes revealed as the Nu Mou. The expansion will also introduce other new races, including both pixies and dwarves.
The expansion will also include nine new dungeons at release, and will include a new high-level raid series and new 24-man alliance raids. The conclusion of the Return to Ivalice raid series will be released in patch 4.5, with details on the patch and its release date to be announced during Saturday's Letter from the Producer presentation.
There will also be new end-game content for Disciplines of the Land (gathering) and Disciples of the Hand (crafting) jobs. This will focus on the aspect of rebuilding the Holy See of Ishgard, the nation that was the focus of the Heavensward expansion. Yoshida hinted that this may result in player housing in Ishgard. As with previous expansions, Shadowbringers will also feature plenty of new gear and recipes.
Square Enix announced new systems that will be introduced NPC battle-assistance system, Trust system. The system is an adaptation of the system of the same name introduced to Final Fantasy XI, and will let select NPCs help solo players go through dungeons in Shadowbringers. There will be a limited number of NPCs available to start, but more will be added in future.
Another new system is a New Game Plus designed to let players replay old content from earlier in the game. This will let players do things such as the 2.0 story questlines or job-related quests, but will let them to it at their current strength. A third new system is the World Visit system. From the Aetherytes in the original three cities of Limsa Lominsa, Gridania, and Ul'dah, players can go from their original World (or server) to any other World on the same Data Center. The World Visit system is planned to be released before Shadowbringers to allow for testing and ironing out of any issues.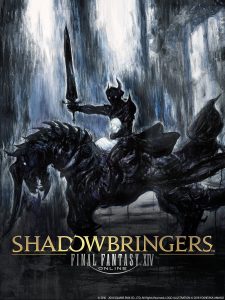 Naoki Yoshida also made some other announcements concerning Final Fantasy XIV. First, Shadowbringers will see Final Fantasy XIV stop support of 32-bit versions of Windows. There are also changes coming to the North American and European Data Center structure. North America will expand to three Data Centers from its current two, with Europe increasing from one Data Center to two. In conjunction with this, the Worlds on these Data Centers will be regrouped, so some Worlds that currently are on the same Data Center may not be in future. Square Enix will be offering free World Transfers to assist players with any inconveniences caused by this. Exact details on the changes will be provided during Saturday's Letter from the Producer presentation.
In a first attempt to wrap up the presentation, Naoki Yoshida revealed that there will also introduce a new playable race. The new, sixth race was not officially announced, but the back of Naoki Yoshida's shirt was featured Bugs Bunny with some chat about Peter Rabbit also occuring immediately after that reveal and another reminder that the Return to Ivalice series will conclude in patch 4.5.
Though Naoki Yoshida refused to state any of the new jobs for 5.0, Square Enix President and CEO Yosuke Matsuda appeared in costume to reveal that the Blue Mage job will be added to the game. The Blue Mage job will in fact not be part of Shadowbringers, and will be released with the upcoming patch 4.5. The class is the first "Limited Job" and not connected with any other class, with its battle actions learned from monsters. There will be a new Blue Mage-only Duty (dungeon) and the level cap for Blue Mage will be initially set at 50, but it will be increased in future patches. Further details about the Blue Mage will be revealed during Saturday's Letter from the Producer.
More details about Shadowbringers will be unveiled at the next Fan Fest on February 2, 2019, in Paris. A full replay of the presentation is can be watched on Final Fantasy XIV's Twitch channel, with the expansion's teaser website now live.