Fate/Samurai Remnant Interview
Fate/Samurai Remnant is the latest action RPG from Koei Tecmo's Omega Force studio, with the developer offering its take on a story within another franchise. This time around, the studio is working with Type-Moon and Aniplex on a new tale under the long-running Fate series, set in Keian era Japan (around 1651 CE). The game puts players in the role of swordsman Miyamoto Iori, who is drawn into Waxing Moon Ritual where seven pairs of Masters and Servants — heroic spirits from the past — fight in order to emerge victorious and obtain an artifact capable of granting wishes. Ahead of the game's release later this month, RPGamer was able to put some questions to game director Ryota Matsushita about some of the ideas and challenges for the game.
---
Alex Fuller (RPGamer): Can you talk about how the collaboration came about, what made Fate an attractive property for the team to take on?

Ryota Matsushita, Director at Koei Tecmo Games: We approached TYPE-MOON and asked them to create a new game with us! Fate is a series with a long history, and of course we had many passionate fans on our team, so I feel that our love for the IP itself was the driving force behind the creation of this title.
RPGamer: How closely are you working with TYPE-MOON and other Fate creators on the game?

Ryota Matsushita: Mr. Nasu has been looking carefully at how we represent each character and their part in the overall story, while Mr. Takeuchi has been supervising the overall visual style, including the characters. Mr. Sakurai and Mr. Higashide, who have worked as writers for many Fate series, check all texts to ensure that they do not deviate from the literary expression of Fate and that they are presented in an appealing manner.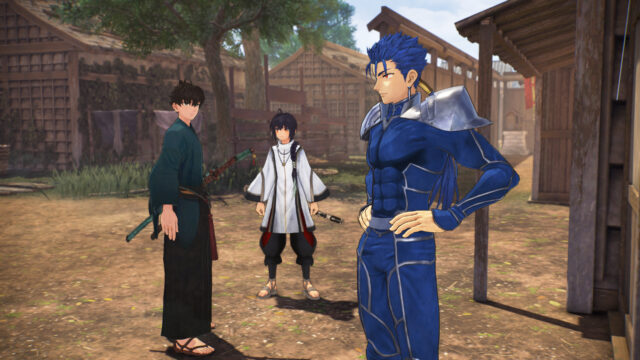 RPGamer: Are there any challenges that come with working on an established property, are there any ideas you've been able to bring and add to the series?

Ryota Matsushita: It's true that Fate has a long history and strict rules, but the hardcore Fate fans and our writer team within the company strongly respected these rules in their work, so there were no major problems. Rather, we spent an overwhelming amount of time facing issues such as how to make this work a new Fate experience and how to create synergy between the story and gameplay, and everyone at TYPE-MOON worked with us on the project with the final game experience as our first priority. While there were many new ideas, I believe that expressing the Master and Servant battling together as an action game was our most challenging achievement.
RPGamer: Fate Samurai/Remnant is set in the Keian era, are there any particular elements of this period you're excited to explore with the game?

Ryota Matsushita: Although this time period appears to be one of peace after a long civil war, it is actually a turbulent time filled with political unrest. This is reflected in the game as well, and if you leave the bustling main street and go to less populated places, you may be attacked by gangs. However, for Miyamoto Iori (you the player), the swordsman, the battles that occur here are just a warm-up before fighting the Servants.
RPGamer: How have you looked to adapt Omega Force's traditional action gameplay for Fate Samurai/Remnant, are there any new elements that Fate has allowed you to bring in?

Ryota Matsushita: There is a clear difference in power between Masters and Servants in the Fate series, and Masters, who are mere humans, have no chance at fighting against supernatural servants. In other words, in this world, the chances of taking on enemies in a one-sided battle like in Omega Force's Warriors series are very low. While this title inherits the casual controls and exhilarating feel of the Warriors series, the difference in power between the Master and the Servant is expressed with great effort as part of this title's unique game feel. This is not only effective in achieving the thrill of fighting enemy Servants, but also in realizing the reassuring power of your partner Servant: Saber.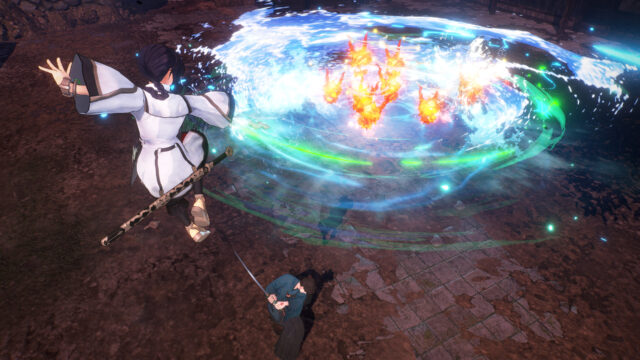 RPGamer: Can you talk about the implementation of Edo itself and how you've aimed to get players immersed in the setting?

Ryota Matsushita: In this work, we put a lot of effort into the cityscape of the Edo period. At that time, Edo was a city where all of Japan's culture was concentrated as well as its distribution of goods. However, it was not only lively and bright, but also harbored sadness and resentment born from tragic experiences in the past and current circumstances. Players can feel the positive and bright side of Edo by walking with Saber through the bustling streets of the city, but on the other hand, by experiencing the drama of each group in the Holy Grail War, they can feel the dark side surrounding Edo and the inability of people to cope.
RPGamer: The Fate series has plenty of beloved characters, do you have any particular favourites from Samurai Remnant?

Ryota Matsushita: That would have to be Iori's partner, Saber. Saber can be a fighting machine against enemies, but they have a childlike side that is curious about the culture and landscape of this time period and they will run off when they find something interesting. Sharing your knowledge with them will strengthen the bond between the two of you (and at this time, the gauge you use in battle will increase). Being swept away by the uninhibited and adorable Saber is a truly enjoyable experience.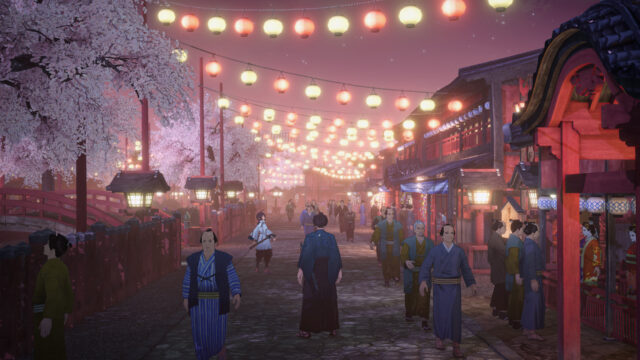 RPGamer: How have you looked to balance things between pleasing series fans and bringing on potential newcomers?

Ryota Matsushita: That is exactly the point we are taking great care with in this work. This title will of course satisfy Fate fans, and there are some detailed tricks that you will notice if you have knowledge of the series, but on the other hand, it is designed to be an introduction to Fate. You will share the perspective of the main characters, Iori and Saber, and learn about the setting and theories of the Holy Grail War from the ground up, so you don't have to worry about being left behind.
RPGamer: Are there any final messages you'd like to share with players ahead of the game's release?

Ryota Matsushita: It was very challenging to "portray the Holy Grail War as an action RPG", but in the battle scenes where the Master and Servant fight as a team, we were able to create a completely new experience of an "unequal and united partner" that is both exhilarating and conducive to your strategy. Your partner Saber is not only cute but also very dependable during the toughest battles. Welcome to the expansive and thrilling world of Fate!
---
RPGamer would like to extend our thanks to Koei Tecmo and Ryota Matsushita for taking the time to answer our questions. We would also like to thank Olivia Brodsky and ONE PR Studio for facilitating the interview. Fate/Samurai Remnant will release internationally on September 29, 2023, for PC, PlayStation 4, PlayStation 5, and Nintendo Switch. Those looking to read more about Fate/Samurai Remnant can check out RPGamer's earlier impression from a preview build covering the first few hours of the game.