Fate/Samurai Remnant Releasing in September
Koei Tecmo announced that action RPG Fate/Samurai Remnant will release internationally on September 29, 2023. The game is being developed by Omega Force in collaboration with Type-Moon and Aniplex, and will be available on PC, PlayStation 4, PlayStation 5, and Nintendo Switch. In addition, a limited Treasure Box Edition is available to pre-order now from NIS America's online store in North America and Koei Tecmo's online store in Europe. The edition is priced at $114.99 and includes:
Standard physical copy of Fate/Samurai Remnant for PlayStation 4, PlayStation 5, or Nintendo Switch (PC Steam code available in Europe)
Design works and short story reference material
Original soundtrack CD
Short story translation booklet
B2-sized cloth poster
Command spell sticker set
Bonus costume DLC code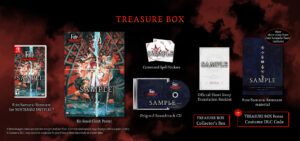 Fate/Samurai Remnant is the latest title in the Fate multimedia franchise, which features pairs of masters and heroic spirits — known as servants — fighting in order to emerge victorious in various Holy Grail Wars and obtain an artifact capable of granting wishes. Fate/Samurai Remnant is set in the fourth year of the Keian era in Edo period Japan (around 1651 CE). While the populace is enjoying a time of general peace, the Waxing Moon Ritual is unfolding in the shadows and seven pairs of masters and servants will begin battling in a new Holy Grail War.
The game stars Asakusa resident Miyamoto Iori, a master in the Niten Ichiryu style of swordsmanship, who is caught up in the new Holy Grail War alongside his servant Saber. It will allow players to explore the town of Edo as well as interact with various characters and animals, and take on multiple challenges. An early demo will be playable at the upcoming Anime Expo 2023 in Los Angeles form July 1-4, 2023.