Monochrome Mobius Western PS4, PS5 Release Announced
NIS America announced that it is releasing the PlayStation 4 and PlayStation 5 versions of Aquaplus's Monochrome Mobius: Rights and Wrongs Forgotten in North America and Europe. The game — which was released internationally for PC by Shiravune and DMM Games in 2022 — will be released on the consoles in fall 2023. A $99.99 Limited Edition is available to pre-order from NIS America's North American online store now, and will be available from its European store in the coming days. The edition contains:
Physical copy of Monochrome Mobius: Rights and Wrongs Forgotten for PlayStation 4 or PlayStation 5
Hardcover visual book
"Prelude" original soundtrack CD
"A Day on the Town" 17″ x 24″ cloth poster
Shunya & Halu acrylic display
Munechika & Mikazuchi acrylic display
Set of five art cards
Collector's box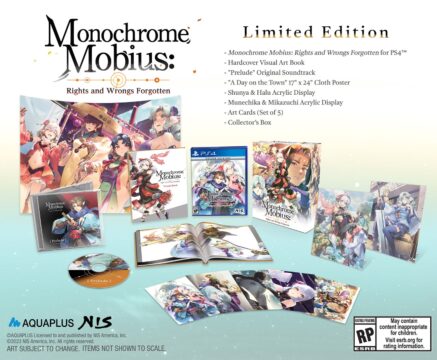 Monochrome Mobius: Rights and Wrongs Forgotten acts as a prequel to Utawarerumono: Mask of Deception, and tells the story of major character Oshtor. At the time of the game, Oshtor is living with his mother and sister in a province of the Yamato Empire and investigates a matter for the local lord, during which he comes across a girl named Shunya. The game features a turn-based battle system as opposed to the rest of the series' grid-based tactical combat.