Final Fantasy XIV: Endwalker Launching in November, Fan Festival Keynote Round-Up
Square Enix opened the Final Fantasy XIV 2021 Digital Fan Festival with a keynote presentation from Director and Producer Naoki Yoshida focusing on the MMORPG's fourth expansion, Final Fantasy XIV: Endwalker. The presentation, with Localization Lead Michael-Christopher Koji Fox providing the English translation, opened with the reveal of the expansion's full official trailer, which features a new theme song composed by Masayoshi Soken with vocals from Sam Carter of British band Architects.
Naoki Yoshida unveiled the first part of the keynote with his costume, which is based on the new Reaper job. The Reaper job is the second new job in Endwalker, joining the Sage job. While Sage is a new healing job, Reaper is a new melee DPS job that is being utilised by antagonist Zenos yae Galvus. The Reaper wields a large two-handed scythe and can summon an avatar from the Void, potentially acting as a host of the Voidsent to channel its power. As with other recently released jobs, it has no required class, though players will need to have access to Endwalker and another job of at least level 70, which is its starting level.
Endwalker is aimed to bring the saga of Hydaelyn and Zodiark, which started with A Realm Reborn, full-circle and unlike the previous expansions will completely wrap up in version 6.0. It will not be the conclusion of Final Fantasy XIV, however, with patch 6.1 beginning a brand new story. Eventually Endwalker will take players to the moon, but before that players will be visiting a newly revealed hub city, the isolationist city-state of Old Sharlayan.
Dragoon Estinien, a major character in the Heavensward expansion, will be involved in Endwalker as a new member of the Scions of the Seventh Dawn. He will also be included in the game's Trust system, where AI-controlled characters can join players in story dungeons. Estinien is accompanied by the dragon Vrtra, who is one of the First Brood along with Hraesvelgr, Tiamat, and others appearing in Heavensward. A new, currently unnamed character from Old Sharlayan also plays an important role in the story and is set to appear in the forthcoming second part of the patch 5.5 story content.
As with other expansions, Endwalker will feature large new areas. Revealed in the keynote was Labyrinthos, along with the first footage of the previously revealed Thavnair. Labyrinthos features ancient buildings that use a strange technology and is in fact underground. It has a dome that acts as an artificial sky, complete with an artificial sun. Meanwhile, Thavnair, which includes the independent city of Radz-at-Han, has a sub-tropical theme. In Endwalker, players will also finally head to Garlemald, the capital of the Garlean Empire, as recent events throw it into chaos. Finally, the keynote unveiled the area of Mare Lamentorum, which is on the moon, though details on how players end up there were not provided.
New encounters in Endwalker will include the Magus Sisters, which series fans will note is a reference to Final Fantasy IV. The expansion will also introduce a new Beast Tribe, the rabbit-like Loporrits that reside on the moon. Naoki Yoshida then gave an overview of the previously revealed content and features from Endwalker's original announcement showcase.
As expected, Endwalker will feature numerous new dungeons, with some of these showcased in a new video. All of the story dungeons will be compatible with the game's Trust system, where AI allies allow players to take on the dungeons solo. Endwalker will also introduce a new 24-player Alliance Raid series titled Myths of the Realm. The raid series will focus on the Twelve, the pantheon of deities in Eorzea.
Naoki Yoshida unveiled physical and digital Collector's Editions for Final Fantasy XIV: Endwalker. The digital Collector's Edition will include the in-game Arion mount, Wind-up Porom minion, and Death Scythe Reaper weapon. Physical editions will come in two versions depending on platform. The physical Collector's Edition is for PC and Mac players and will include a special art box, a 18.5cm-high Paladin figure, a set of ten B5-size art prints plus a display frame, an Azem pin, a 6.5cm-high Loporrit mini plush, a digital download code and the contents of the digital Collector's Edition. Meanwhile, the Collector's Box is for Steam, PlayStation 4, and PlayStation 5 players that will include just the physical items, with the expansion purchased separately. The Endwalker expansion itself will only be available as a digital download.
All pre-orders will receive an in-game Menphina Earring — which grants a 30% experience boost up to level 80 — and a Wind-up Palom minion. The reveal of the Collector's Editions and pre-order bonuses led up to the announcement of the release date for Final Fantasy XIV: Endwalker. The expansion will launch for PC, Mac, PlayStation 4, and PlayStation 5 on November 23, 2021. All of those who pre-order the expansion will receive early access from 1am PST on November 19, 2021.
Finally, in the first of a couple of ending reveals, Naoki Yoshida announced a new playable race option: male Viera. In addition, a female Hrothgar option is planned, though it will be available at a later date. Meanwhile, a dedicated Oceania data centre will be opening, joining the existing Japan, North America, and Europe data centres. There is currently no date for the Oceania data centre but it is hoped to open prior to the launch of patch 6.1.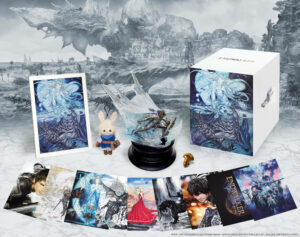 Final Fantasy XIV: Endwalker Screenshots and Art
Full Final Fantasy XIV: Endwalker Trailer
Reaper Job Reveal
Old Sharlayan
Labyrinthos, Thavnair, Radz-at-Han, and Mare Lamentorum
Dungeon Crawl Trailer
Male Viera Reveal
Full Keynote Presentation and Fan Festival Developer Panel