Neptunia ReVerse Limited Edition Announced
Idea Factory announced a physical Limited Edition for Neptunia ReVerse. The $84.99 edition will be available to pre-order from Idea Factory's North American and European online stores from May 3, 2021, and includes:
Physical copy of Neptunia ReVerse for PlayStation 5 with reversible cover sleeve
Steel game case
124-page art book
25-track soundtrack CD
11.7″ x 16.5″ double-sided poster
Sticker set
Trading card
Collector's box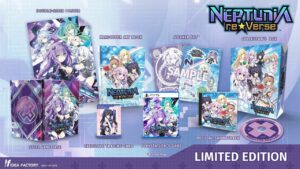 Neptunia ReVerse will launch for PlayStation 5 in North America on June 8, 2021, and in Europe on June 11, 2021. The game is an enhanced version of the first game in the Neptunia series, which was originally released for PlayStation 3. Neptunia ReVerse is based on the revamped gameplay of the Hyperdimension Neptunia Re;Birth 1 remake released for PlayStation Vita and later ported to PC. The ReVerse version includes 27 playable characters available from the outset, a party-size increase from three to four, new character outfits and accessories, and a new fishing mini-game.