Hero Must Die. Again Gets Physical Release
Limited Run Games announced that it will be releasing physical copies of Degica's Hero Must Die. Again. The physical edition will be available to order for PlayStation 4 and Nintendo Switch via Limited Run Games' website from 12pm EST on March 9, 2021. It will include:
Physical copy of Hero Must Die. Again for PlayStation 4 or Nintendo Switch
Reversible poster
Hero enamel pin
Acrylic standee
Official soundtrack CD
Art book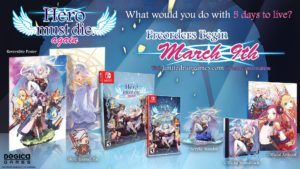 Hero Must Die. Again is a remake of 2007 Japanese mobile phone title Hero Must Die and released digitally for PC, PlayStation 4, and Nintendo Switch in 2020. The game is designed and written by Shoji Masuda, who also worked on Linda³ and Oreshika. It follows a hero who defeats the demon Guile, only to die in the process, with his spirit losing his memories of the one most dear to him. As a reward for his heroics, he is given five days to put his affairs in order, trying to determine which of the eight heroines is his dearest, but as those days go by, he gets progressively weaker. Those looking to read more can check out RPGamer's review of the PC version.