Evoland Physical Edition Announced
Super Rare Games has announced that it has partnered with Shiro Games to release a physical edition of Evoland: Legendary Edition for the Nintendo Switch. Pre-orders of the £30 edition will begin on October 10, 2019, through Super Rare Games' website. Only 5,000 copies will be available, and the edition will start shipping out from the week beginning October 21, 2019.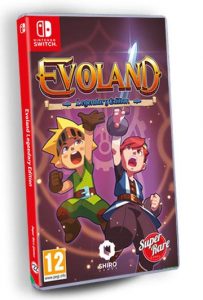 Evoland: Legendary Edition contains both Evoland and Evoland 2, a pair of history-tracing RPGs that go through numerous graphical and gameplay modes. Evoland was originally released for PC in 2013 and is an action-adventure title that journeys through mutliple generations of gameplay and graphics, with new generations unlocked as players progress through the game from 8-bit to modern 3D. Its sequel was released for PC in 2015 and follows a similar formula featuring additional genres of gameplay. Those looking to read more about both titles can check out Mike Moehnke's reviews of the PC versions of Evoland and Evoland 2.