Costume Quest 2 Limited Run Games Release Announced
Limited Run Games announced it will be releasing physical PlayStation 4 editions of Double Fine Games' Costume Quest 2. The game will be available to order Friday, October 25, 2019, in a $24.99 regular edition and a $54.99 Deluxe Edition. The Deluxe Edition will be limited to 1,000 copies and go on sale in two batches, the first at 10am EST and the second at 6pm EST. The Deluxe Edition includes:
Physical PlayStation 4 copy of the game
Original soundtrack CD
18 x 24-inch poster
Dr. Orel White enamel pin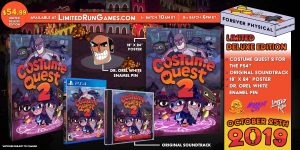 Costume Quest 2 is an action RPG where players control one of two siblings, Wren or Reynold, exploring their neighbourhood and fighting monsters to stop Dr. Orel White from outlawing Halloween. Characters change into costumes, which enhance and alter their combat capabilities. The game released in 2014 for PC, Mac, Linux, PlayStation 3, PlayStation 4, Xbox 360, Xbox One, and Nintendo Wii U.