Ys VIII: Lacrimosa of Dana Novelisation Cover Revealed, Releasing in October
Dragonwell Publishing has revealed the cover for the upcoming novelisation of Nihon Falcom's Ys VIII: Lacrimosa of Dana. The reveal of the cover for the novelisation, titled Lacrimosa of Dana and written by Anna Kashina, comes with news that it will release on October 18, 2023. It is available to pre-order digitally through Amazon, Barnes and Noble, Kobo, and Google Play, with print orders to begin soon. In addition, Dragonwell Publishing provided a short interview with author Anna Kashina.
Ys VIII: Lacrimosa of Dana was initially released in North America and Europe for PlayStation 4 and PlayStation Vita in 2017, followed by releases on PC and Nintendo Switch in 2018 and PlayStation 5 in 2022. The game follows longtime series protagonist Adol (and his partner Dogi) after they become shipwrecked on the Isle of the Seiren. The duo team up with other survivors to try and find a way off the island, while Adol has dreams of a mysterious girl from the past named Dana. Those looking to read more about the game can check out Mike Moehnke's review of the PlayStation Vita version and Charalampos Papadimitriou's review of the PlayStation 4 version.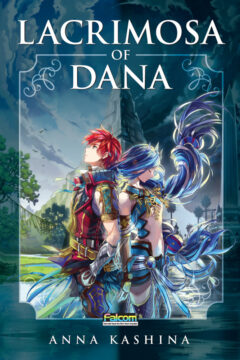 ---
Dragonwell Publishing: What inspired you to write a novel based on Lacrimosa of Dana?
Anna Kashina: To me, video games are all about unique stories and interesting characters. Some games do this better than others, but probably none do it as well as Lacrimosa of Dana.

Playing it for the first time felt exactly like falling in love. As soon as I finished, I started looking for books based on this game. I wanted to spend more time on the Isle of Seiren, bonding with the characters, reliving the events in a different way. When I found no such books, I started dreaming of writing one. I can't possibly relay all the excitement I feel now that it actually happened.
Dragonwell Publishing: What was your first reaction when you saw the cover of your novelisation of Lacrimosa of Dana?
Anna Kashina: You know that thrill, when your stomach flips and your breath catches in your throat, and for a moment you are too overwhelmed to speak? Something like that.

I absolutely love this cover. Not only does it capture the essence of the game – and features the amazing artwork by Nihon Falcom – it also does it in a way that highlights the best of both. The design makes creative use of the original image, and gives even more prominence to the characters that truly stand out in this vibrant setting. A lot of the scenery on the cover fades into the background, making Adol and Dana a centerpiece that instantly draws the eye. It shows so perfectly what this book, and the story, is about.

I feel very grateful to the Dragonwell Publishing team, to the cover designer, and to Nihon Falcom Co., for making this the best cover I could possibly imagine.