GrimGrimoire OnceMore Heading West in 2023
NIS America announced it is releasing GrimGrimoire OnceMore, the remaster of Vanillaware's GrimGrimoire, in North America and Europe in spring 2023. The game will be available for PlayStation 4, PlayStation 5, and Nintendo Switch. A physical Deluxe Edition will be available from selected retailers, while a $89.99 Limited Edition is available to pre-order from NIS America's online stores in North America and Europe that includes:
GrimGrimoire OnceMore Deluxe Edition for PlayStation 4, PlayStation 5, or Nintendo Switch
"Witches & Wonders" hardcover artbook
"Spellbinding Symphonies" two-disc soundtrack
"Magical Mayhem" cloth poster
"Once More Upon a Time" acrylic display
Set of four "Portable Spells" keychains
Set of five "Mystical Portraits" art cards
Collector's box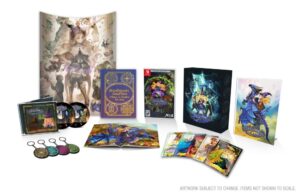 GrimGrimoire is a fantasy 2D real-time strategy title starring Lillet Blan, a student at the Silver Star Tower's magic academy. The game takes place over a five-day period as incidents start occurring around the academy leading to its destruction. Lillet is able to travel back in time and relive those five days while attempting to avert the disaster.