Neptunia x Senran Kagura: Ninja Wars Breaking Out in October
Idea Factory International announced western release dates for the Neptunia and Senran Kagura series crossover title Neptunia x Senran Kagura: Ninja Wars. The game will launch on PlayStation 4 in North America on October 26, 2021, with the European release following on October 29, 2021. A $99.99 Limited Edition will be available to pre-order from Idea Factory International's North American online store (and its European equivalent) from September 28, 2021, that contains:
Physical copy with reversible cover​ of Neptunia x Senran Kagura: Ninja Wars for PlayStation 4
Collector's Box​
"The Art of Ninjutsu" hardcover art book​
Ukiyo-e wall scroll​
Steel game case​
Official soundtrack​ CD
Exclusive trading card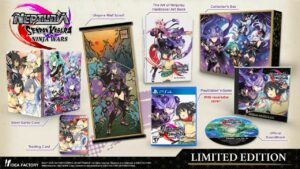 Neptunia x Senran Kagura: Ninja Wars takes place in the Game Ninja World, where the nations of Hatonokuni (Neptunia's Neptune, Noire, Blanc, and Vert) and Maabekoku (Senran Kagura's Asuka, Homura, Yumi, and Miyabi) are battling through their respective Konba and Hanipa ninja schools for dominance before the world is invaded by a machine army. The game is an action RPG developer by Compile Heart and Tamsoft.