Bug Fables Limited Run Games Orders Open This Week
Limited Run Games announced that orders for its physical editions of Bug Fables: The Everlasting Sapling will open at 10am Eastern on Friday, April 21, 2021. There will be a Standard Edition and a $89.99 Collector's Edition for both PlayStation 4 and Nintendo Switch, which will be available to order through Limited Run Games' website for four weeks. The Collector's Edition includes:
Physical copy of Bug Fables: The Everlasting Sapling for PlayStation 4 or Nintendo Switch
Soundtrack CD
Vi plush
Set of enamel pins
Set of spy cards
Papercraft diorama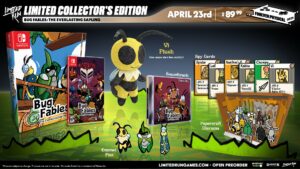 Bug Fables is an adventure RPG that follows Vi, Kabbu, and Leif as they quest across the land of Bugaria in search of the Everlasting Sapling. The game released for PC in 2019, with PlayStation 4, Xbox One, and Nintendo Switch versions launching in May 2020. Those looking to read more about Bug Fables can check out Anna Marie Privitere's review of the Nintendo Switch version.