Cris Tales Collector's Edition Announced for United States
Modus Games announced a limited Collector's Edition for Dreams Uncorporated and SYCK's Cris Tales. The edition is available exclusively on Maximum Games' online store, shipping only to the United States. The edition is priced at $99.99 and includes:
Copy of Cris Tales for PC, PlayStation 5, PlayStation 4, Xbox Series X, Xbox One, or Nintendo Switch (PC edition is a digital code, other platforms are physical copies)
60-page art book
Matias plush (approx. 9″ high)
Four enamel character pins
Three character stickers
Two lithographic art prints (approx. 4″ x 6″)
Collector's box
Digital download of four desktop wallpapers, eight phone wallpapers, and ten character avatars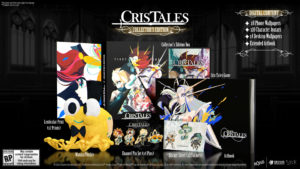 Cris Tales is billed as a love letter to classic JRPGs. The game features a strategic turn-based combat system and aims to let players look into the past, act in the present, and watch as those actions change the future using protagonist Crisbell's time-affecting abilities. Those looking to read more about Cris Tales can check out Pascal Tekaia's impression from E3 2019 as well as Alex Fuller's impression from a guided demonstration in June. The game is set to release for PC, PlayStation 4, PlayStation 5, Xbox One, Xbox Series X, Nintendo Switch, and Google Stadia in 2021.