Little Town Hero Big Idea Edition Releasing in June
NIS America announced that its physical Big Idea Edition for Game Freak's Little Town Hero will be coming to PlayStation 4. The edition joins the previously announced Switch edition and both editions will arrive in North America on June 2, 2020, and in Europe on June 5, 2020. The editions are available to pre-order now from NIS America's North American and European stores, priced at $49.99/£49.99 and include:
Physical copy of Little Town Hero for PlayStation 4 or Nintendo Switch
"Life in the Village" art book
"Izzit? Dazzit?" poster
"Defender Duo" lapel pin set
Soundtrack CD
Collector's box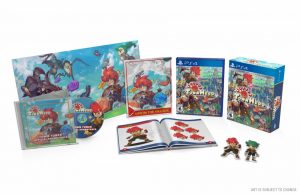 Little Town Hero sees players trying to save a small village from invading monsters, enlisting the aid of villagers to help fight them off. The game was launched worldwide for Nintendo Switch in 2019 and is set to be released for PlayStation 4 in Japan on April 23, 2020. The digital PlayStation 4 release date in North America and Europe has not yet been confirmed. Those interested in reading more about Little Town Hero can also check out Anna Marie Privitere's review of the Nintendo Switch version.