Idea Factory International Announces Death end re;Quest Keepsake Box
Idea Factory International has announced a Keepsake Box for Death end re;Quest. The product gives those who missed out on the game's limited edition to pick up some additional physical items, with the game not included. The Keepsake Box is priced at $39.99 and will be available to order from Idea Factory International's North American online store from September 23, 2019. The box includes:
Death end re;Quest steel game case (game not included)
White Rabbit Archives art book
24-track Odyssia Symphonic Trance soundtrack CD
Mousepad
Microfiber cloth
Collector's box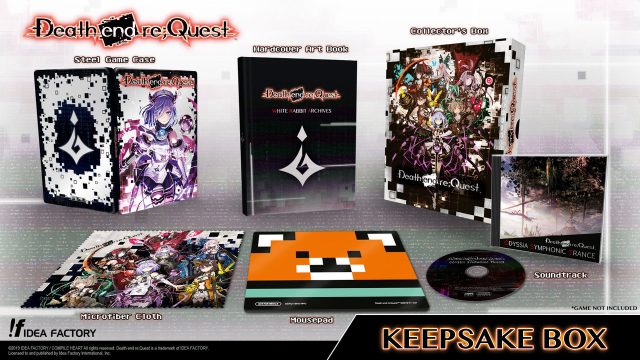 Death end re;Quest was originally released in North America and Europe for PlayStation 4 in February 2019 before being released on PC via Steam in May 2019. The game follows two main protagonists, Shina Ninomiya and Arata Mizunashi, both employees of the developer behind fictional VRMMORPG World's Odyssey. Though the VRMMORPG has been cancelled, Shina finds herself trapped within the game, while Arata attempts to rescue her from the real world in the city of Sagami. Those looking to read more about Death end re;Quest can check out Pascal Tekaia's recent review of its PlayStation 4 version. A sequel, Death end re;Quest 2, is currently in development.