Persona 3 Reload Gets Social Details, More Media
Atlus released new details and media for the upcoming Persona 3 Reload remake of the PlayStation 2 title Persona 3. The update introduces new combat outfits for the protagonist, Yukari, and Junpei, as well as showing the game's Social Stats and Social Links systems. In addition, Atlus released a new behind the scenes video for the game featuring some of its English voice cast, as well as detailing its editions. The video features Aleks Le (Protagonist), Zeno Robinson (Junpei), and both Heather Gonzalez (Yukari) and Michelle Ruff (Yukari from the original Persona 3) .
In addition to the new outfits, Persona 3 Reload also grants party members new Theurgy skills. These powerful abilities can be used when a character's Theurgy gauge is filled by attacking, using skills, or other actions. Different actions will be more effective at filling the gauge for different characters. Like his ability to use multiple summoned spirits called Personas alongside his default Persona Orpheus, the protagonist has access to different Theurgy skills. Yukari's Persona is Io, and she is skilled in healing and wind magic, with her Therugy, Cyclone Arrow​, dealing heavy wind damage that ignores enemy defences. Junpei is strong at slash attacks and fire skills with his Persona Hermes, and his Theurgy, Hack n' Blast is a hard-hitting physical attack with his sword.
Like the original game, and later entries, the protagonist has a set of Social Stats. Persona 3 Reload features three Social Stats — Courage, Charm, and Academics — which can be improved by actions such as studying or taking on part-time jobs. Players will need to advance these Social Stats in order to use certain facilities or progress their relationships with other characters.
There are many things to do within the dormitory the protagonist lives with the other members of the Specialized Extracurricular Execution Squad, many of which help raise Social Stats are provide other benefits. These include cooking, studying, reading, watching movies, and gardening. Players can also use these to grant passive skills called Combat Characteristics to other party members. The protagonist can also use the dorm's computer to study and gather intel that can benefit combat and exploration.
The final set of screenshots introduce some of the schoolmates that the protagonist will be able to form Social Links with. In addition to providing stories focused on these characters, Social Links help strengthen the protagonist's abilities. Reload sees these characters receiving brand new illustrations as well as fully-voiced event scenes. Atlus also revealed the voice actors for these characters:
Kenji Tomochika (protagonist's classmate), voiced by Joe Zieja
Nozomi Suemitsu (the Gormet King), voiced by Paul Castro Jr.
Kazushi Miyamoto (track and field athlete), voiced by Mark Whitten
Yuko Nishiwaki (track and field manager), voiced by Shelby Young
Hidetoshi Odagiri (student council member), voiced by Austin Lee Matthews
Chihiro Fushimi (student council treasurer), voiced by Kelly Baskin
Keisuka Hiraga (art club member), voiced by Griffin Burns
Bebe (foreign transfer student), voiced by Jeff Berg
In terms of editions and pre-order bonsues, Atlus revealed that pre-orders will receive the bonus DLC Persona 4 Golden BGM Set, which adds the Persona 4 Golden OST tracks "Reach Out to The Truth", "Time to Make History", "I'll Face Myself -Battle-", "A New World Fool", "Fog", and "Period" to the game. In addition a physical standard edition, there will also be a physical limited edition, the Aigis Edition, which includes:
Collector's box
Physical standard edition of Persona 3 Reload
Aigis figure
Two-disc, 60-track full soundtrack
64-page art book
DLC pack voucher (granting access to all of the available DLC at launch)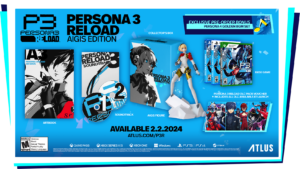 There will also be two special digital editions of the game. The Digital Deluxe Edition includes a digital art book and a digital 60-track soundtrack. The Digital Premium Edition includes the contents of the Deluxe Edition, plus a DLC pack of all purchasable costumes and Personas.
Persona 3 sees players controlling a transfer student in the Japanese city of Iwatodai, using summoned beings known as Personas to fight. They become involved in a series of incidents surrounding the temporary anomaly called the Dark Hour. The Dark Hour includes the appearance of a tower known as Tartarus, and players join the Specialized Extracurricular Execution Squad tasked with investigating it. Persona 3 Reload will release worldwide on February 2, 2024, for PC, PlayStation 4, PlayStation 5, Xbox One, and Xbox Series X|S.