SpellForce III: Soul Harvest Out Now on PC
Standalone expansion SpellForce III: Soul Harvest is now available on PC. The expansion to the 2017 RTS-RPG hybrid is available through Steam, GOG.com, and the Humble Store, priced at $24.99/£19.99/€24.99 for new players, with those who already own SpellForce III receiving a 40% discount on Steam. In addition, a retail Collector's Edition bundle is available for $79.99/£74.99/€79.99 that includes:
Copy of SpellForce III and SpellForce III: Soul Harvest
8-inch (20cm) Sentenza figurine
2-inch (5cm) Godstone amulet
Official soundtrack CD
Artbook
Leather bracelet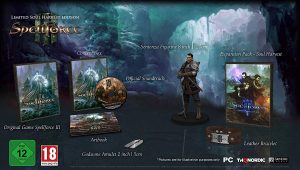 SpellForce III: Soul Harvest features a new campaign that takes place three years after the events of the main game. Players control one of five forces, including the new Dwarves and Dark Elves factions. Soul Harvest also includes new flying units, new skill trees for heroes, and improved matchmaking.