Saviors of Sapphire Wings Coming West, Bundled with Stranger of Sword City Revisited
NIS America has announced that it will be bringing Experience Inc.'s dungeon-crawler Saviors of Sapphire Wings to North America and Europe. The game will be released in 2021 for PC and Nintendo Switch and will come bundled with a copy of another Experience-developed dungeon-crawler, Stranger of Sword City Revisited. A limited edition will be available to pre-order from NIS America's online store for Nintendo Switch that includes:
Physical copy of Saviors of Sapphire Wings / Stranger of Sword City Revisited for Nintendo Switch
Two-disc soundtrack
Hardcover art book
Sapphire Wing Emblem enamel pin
Collector's box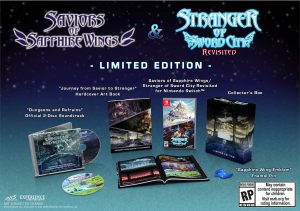 Saviors of Sapphire Wings, previously referred to as "Blue-Winged Chevalier", was released for PlayStation Vita in Japan in 2019. The game is a remake of its earlier title Students of Round. Released only in Japan, Students of Round was originally released for PC in 2010 before being ported to Xbox 360 in 2011 and PlayStation Portable in 2012. The game sees a fallen hero returning to life 100 years after the Overlord of Darkness defeated the Knights of the Round and plunged the world into ruin.
Stranger of Sword City Revisited is an enhanced version of Stranger of Sword City. The game, which was released worldwide for PlayStation Vita in 2017, is a dungeon-crawling RPG that makes the player the survivor of a plane crash that places them in the world of Escaria.