Spike Chunsoft Announces Conception Plus, Robotics;Notes; New Crystar Trailer Released
During its panel at Anime Expo in Los Angeles, Spike Chunsoft made some new release announcements for North America and Europe. Its first announcement was that Conception Plus: Maidens of the Twelve Stars will be released this November. The game will be released for PC via Steam and PlayStation 4 in North America on November 5, 2019, and in Europe on November 8, 2019. Conception Plus is a remaster of the Japan-only title released for PlayStation Portable in 2012, which received a sequel — Conception II: Children of the Seven Stars — that was released in North America and Europe.
Conception Plus will receive a PlayStation 4 physical Day One edition that includes a mini-calendar featuring the game's thirteen Star Maidens. There is also a $99.99 Limited Edition for PlayStation 4 that is being sold through NIS America's online store and includes:
Physical copy of Conception Plus: Maidens of the Twelve Stars for PlayStation 4
Collector's box
Art book
Two-disc soundtrack
Art cards
Beach towel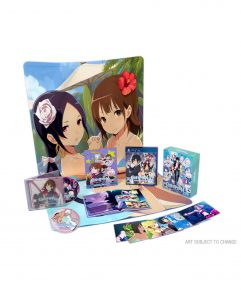 Spike Chunsoft also announced that it will be releasing MAGES Inc.'s visual novel Robotics;Notes Elite in early 2020. The game is an enhanced version of the original Robotics;Notes visual novel that was released only in Japan for PlayStation 3 and Xbox 360. The game is another entry in Spike Chunsoft's science adventure series that includes Chaos;Child and Steins;Gate. Robotics;Notes' direct sequel, Robotics;Notes DaSH, will also be released in the west, though no other details were given.
Finally, the publisher released a new character trailer for FuRyu and Gemdrops' action RPG Crystar. The video introduces main characters Rei and Mirai Hatada, as well as Kokoro Fudoji, Sen Megumiba, and Nanana. Crystar is an action RPG from FuRyu and Gemdrops themed around the afterlife. The game follows Rei Hatada, a young girl who supposedly kills her younger sister Mirai after being drawn into limbo. Crystar is set to be released for PlayStation 4 in North America and PC worldwide on August 27, 2019, with its European PlayStation 4 release following on August 30, 2019.