Super Neptunia RPG Limited Edition Announced
Idea Factory International has announced a limited edition for the upcoming Super Neptunia RPG. The edition will be available to pre-order from Idea Factory International's North American and European online stores on May 28, 2019. The edition is priced at $84.99 and contains:
Standard physical copy of Super Neptunia RPG for Nintendo Switch or PlayStation 4
Super Neptunia RPG steel game case
"Sacred Tome of the Arts" art book
Official 2-CD soundtrack
Puddingo plushie
Super Neptunia RPG playing card deck
Reversible cover sleeve
Collector's box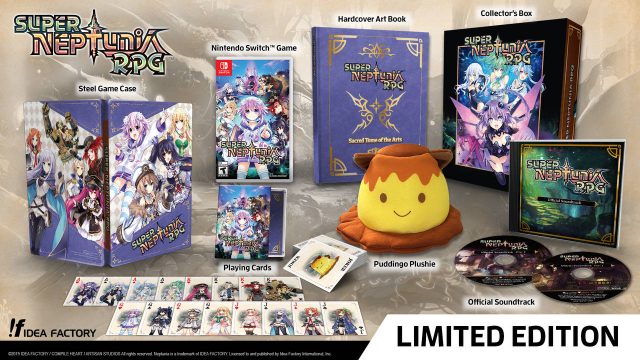 Super Neptunia RPG is a 2D side-scrolling RPG co-developed by Quebec-based Artisan Studios. It takes place in an alternate universe where 2D games still reign supreme. This version of the world of Gamindustri is ruled by an organisation named Bombyx Mori, which collects 2D games as taxes and bans new technologies or games that don't meet its standards. The game is set to be released for PC via Steam worldwide on June 20, 2019, with PlayStation 4 and Nintendo Switch releases following on June 25, 2019, in North America and June 28, 2019, in Europe.