Baldur's Gate III Launching in August
Larian Studios revealed that the full release of Baldur's Gate III is planned for August 2023. The reveal comes with a new trailer, which gives a first glimpse at the city of Baldur's Gate in the game, as well as revealing that characters Jaheira and Minsc will be making their return. The developer also unveiled a Collector's Edition for Baldur's Gate III, which is available to pre-order now for €259.99, and includes:
Steam code for Baldur's Gate III
25cm, 1.1kg Mindflayer vs. Drow battle diorama
160-page hardcover art book
Set of four-page character sheets for each in-game origin character
A3-size cloth map of Faerûn
Mindflayer Tadpole keyring
Set of 32 stickers
Three Magic: The Gathering booster packs containing the Commander Legends: Battle for Baldur's Gate card set (limited to first 15,000 orders)
Numbered Certificate of Authenticity
Oversized metal D20 die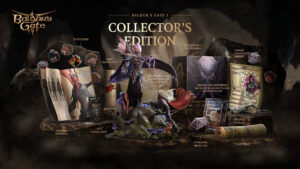 Baldur's Gate III is based on the latest fifth edition Dungeons & Dragons ruleset and is currently available on Early Access for PC and Mac through Steam and GOG.com. Its story sees the customisable player character and some others captured and forced to host a Mindflayer tadpole before the airship they are on crashes. Larian Studios will be hosting its next Panel From Hell stream, Panel From Hell: Holy Knight, on December 14, 2022, at 10am Pacific (6pm GMT). The stream will introduce more details for the game's next major Early Access update, Patch 9, which includes a new playable class.