Mary Skelter Finale Western Release Announced
Idea Factory International announced that Mary Skelter Finale will release in North America and Europe in fall 2021. The game will be available physically and digitally for PlayStation 4 and Nintendo Switch. A Limited Edition is available to wishlist from Idea Factory's online store. The edition is priced at $104.99 and includes:
Physical copy of Mary Skelter Finale for PlayStation 4 or Nintendo Switch
Collector's box
Steel game case
Hardcover art book
Three-disc soundtrack
Hardcover three-novel box set
Exclusive trading card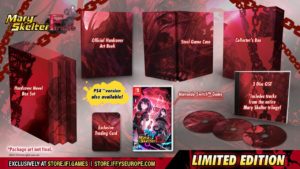 Mary Skelter Finale is a sequel to Mary Skelter: Nightmares and Mary Skelter 2. It follows six protagonists who have escaped from the living prison known as The Jail only to discover that the outer world is filled with the bodies of those killed by Genocide Pink. Finale includes an adventure mode that recaps the events of the previous two games. The western release will include both English and Japanese voice overs.