Pillars of Eternity II: Deadfire Coming to PS4, Xbox One in January
Versus Evil and THQ Nordic have announced that Obsidian Entertainment's Pillars of Eternity II: Deadfire will be released for PlayStation 4 and Xbox One on January 28, 2020. The console versions of the game will include the Beast of Winter; The Forgotten Sanctum; and Seeker, Slayer, Survivor DLC released for the PC version as well as the turn-based combat mode added earlier this year. The game will be available in a standard edition, priced at $59.99/£49.99/€59.99, as well as an Ultimate Collector's Edition, priced at $129.99/£119.99/€129.99 and including:
Physical copy of Pillars of Eternity II: Deadfire
10″ (25cm) Od Nua statue
Spacepig keychain
Metal-optic 3D sticker
Premium box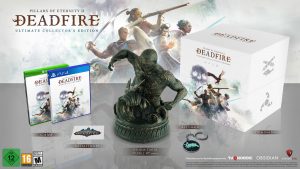 A sequel to 2015 title Pillars of Eternity, Deadfire takes place five years after the events of the first game in the eponymous Deadfire Archipelago. Players are tasked with investigating and pursuing the god Eothas after his sudden revival. A Nintendo Switch version is also planned but has not yet been dated. Those looking to read more about Pillars of Eternity II: Deadfire can check out Joe Hanley's review of the PC version.