The JRPGL – Division 2

RPGamer is pleased to announce the inaugural edition of the JRPGL, a contest where teams of four aim to navigate a punishing divisional stage and subsequent playoffs and emerge as champion. Inspired entirely by recent draft news in American sports leagues the JRPGL sees sixteen RPGamer staff members drafting their choice of JRPG characters to form their own parties before facing off in a reader-decided contest. For those who wish to remind themselves of the rules, as well as read the introductions to all sixteen teams, can check our initial announcement post.
This post and the poll below will determine the winner of Division 2, who will qualify for the final. Voting will close at 7am Eastern on Friday, May 31, 2019. Readers are asked to consider party balance when casting their vote, but otherwise have free choice over who they wish to pick. Our contesting parties and their members are as follows:
---
Celadon City Gamblers
Setzer Gabbiani (Final Fantasy VI)
Rei (Breath of Fire III)
Joker (Persona 5)
Sara Valestein (The Legend of Heroes: Trails of Cold Steel)
Insomnia Insomniacs
Noctis Lucis Caelum (Final Fantasy XV)
KOS-MOS (Xenosaga)
Saber, aka Nero Claudius Caesar Augustus Germanicus (Fate/EXTRA)
Fina (Skies of Arcadia)
Terra's Terrors
Terra Branford (Final Fantasy VI)
Canopus Wolph (Tactics Ogre)
Cidolfus Orlandeau (Final Fantasy Tactics)
Sarah (Shining Force II)
Figaro Flywheels
Auron (Final Fantasy X)
Cecilia Adlehyde (Wild Arms)
Rena Lanford (Star Ocean: The Second Story)
Laguna Loire (Final Fantasy VIII)
---
If readers wish to learn more about the parties to help inform their decision, the full introductions provided by the GMs can be reviewed below.
Celadon City Gamblers
GM: Robert Sinclair
Pick #16 in rounds 1 and 3; Pick #1 in rounds 2 and 4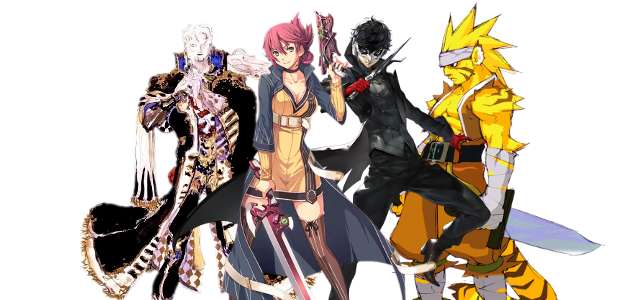 Setzer Gabbiani (Final Fantasy VI)

Rei (Breath of Fire III)

Joker (Persona 5)

Sara Valestein (The Legend of Heroes: Trails of Cold Steel)
Much like our name suggests, the Celadon City Gamblers aren't afraid to play against the odds. It's no risk, no reward. Go big or go home. You're playing their game and the house always wins. Mostly.
When it comes to gambling, no one puts more in than our main man Setzer. Willing to risk his life and his livelihood on something as simple as a coin toss, he shows no fear and there's no hesitation. He also taxies the team around in his airship.
Rei is a different kind of gamble. He's something of a highwayman, strikes quick and leaves the targets confused and defeated. But it's his hidden side, the weretiger form, where he becomes the powerhouse this team is known for. The gamble here, though, is the longer Rei stays in this form, the more out of control he gets. Fast, brutal, uncontrollable violence while hoping for quick wins.
Next we have Joker, our wildcard. He's powerful and able to adapt to any situation and fill any role on the fly. Need some heals? Persona. Need some big damage? Persona. No one can match the flexibility of Joker.
Finally, we have the Purple Lightning herself, Sara Valestein. Powerful, experienced, and a natural born leader. She's the rock, the anvil, and hammer all in one. She's a sure bet and always one to watch out for.
Insomnia Insomniacs
GM: Alice Wilkinson
Pick #1 in rounds 1 and 3; Pick #16 in rounds 2 and 4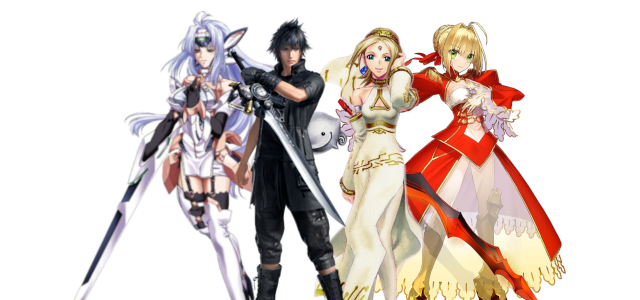 Noctis Lucis Caelum (Final Fantasy XV)

KOS-MOS (Xenosaga)
Saber, aka Nero Claudius Caesar Augustus Germanicus (Fate/EXTRA)
Fina (Skies of Arcadia)
The Insomina Insomniacs is proud to present the team lineup for the 2019 JPRGL!
It is no secret that I really liked FFXV, and the role that Noctis and his merry men played in that enjoyment cannot be understated. With the teamsize of the JRPGL set to four, Noctis is a perfect lynchpin to tie the team together, much as he did in FFXV. While his ability to hold a team together makes him perfect for the position of team captain and playmaker, Noctis is also no slouch in the combat department.
With the Power of Kings, Noctis is able to bestow extra abilities to his party members, from warping to magical empowerment. Not only that, Noctis has a sweet ride to transport everyone, not just on land, but across the sky as well. Who can turn down a flying car? Nobody, that's who.
For this draft, several other promising candidates for the position of "damage dealer" were reviewed, but none matched the raw firepower provided by Xenosaga's resident anti-Gnosis combat android. Sure, Xenosaga was extremely confusing at the best of times, but you can't argue with lots and lots of guns. There's also something labelled "Phase Transfer Cannon"; we're not sure what it does, but it sounds powerful.
While Noctis' Regalia isn't combat capable, KOS-MOS brings her own vehicle, which happens to be a giant robot. Overkill? Not in our vocabulary.
Nero is the Queen to Noctis' King and the wall that the team stands behind. Something of an unconventional choice for "tank", with Invictus Spiritus, she can stand again after being downed. She also has the ability to learn extra abilities for a short time at a whim, very useful when other party members are bringing unconventional weapons to the fray, be they giant shurikens or gatling cannons.
Nero does not bring her own transport, sadly, but can summon her magnificent Roman theatre where everything turns to her advantage. Makes home games rather easy.
Bringing up the rear, Fina was drafted from my favourite RPG to fill the healer role. She's a powerful mage in her own right, and with her own lump of sentient mercury, she's still able to fend off attackers. However, her real strength lies in her powerful healing S-Moves; including the rare full heal/full revive/full status cure combo. With the other three team members defending her, Fina's healing power is hard to stop. For those trickier encounters, there's an area-of-effect dispel in her arsenal too.
She also has a convenient vehicle to bring along, for when the party needs to attend away games at the edge of the atmosphere.
Terra's Terrors

GM: Johnathan Stringer
Pick #9 in rounds 1 and 3; Pick #8 in rounds 2 and 4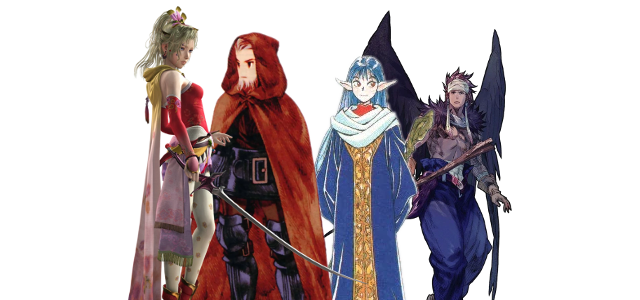 Terra Branford (Final Fantasy VI)

Canopus Wolph (Tactics Ogre)

Cidolfus Orlandeau (Final Fantasy Tactics)

Sarah (Shining Force II)
For the Terra's Terrors, I wanted a mixed team of well rounded yet still powerful characters from some of my favorite RPGs. If one goes down, I have a backup that can fill that void. First pick and team leader Terra Branford from Final Fantasy VI is part esper and part human, and that heritage gives her innate powerful magical abilities. She is a force with offensive magic, and will be the party's primary magic attacker. She becomes even more potent when put in a trance, and can unleash even more devastating magical strikes. That being said, she is no slouch with a sword and can stand toe-to-toe when the need calls. She can even be called in to heal in a pinch to support Sarah if she goes down.
Canopus, aka the Wind Caller, from Tactics Ogre is a versatile attacker and is the closest the game has to an over-powerful character. Canopus is a Hawk-man, and his ability to fly makes him a mobile striker from range, be it with a spear or bow, hitting vital targets and getting crits. His natural agility also makes him a difficult target, and very difficult to kill. Many enemies will waste attacks trying to pin Canopus down, which will save the party from taking damage and be less of a strain on the healers.
Thunder God Cid, Cidolfus Orlandeau from Final Fantasy Tactics, needs little introduction. His nickname is fitting, as he is truly the closest one can get to a "god character" in an RPG. Cid, with his Excalibur sword, has the special abilities of the Holy Knight, Dark Knight, and Divine Knight all in one, and each of those other 3 classes belong to powerful characters in their own right. Not only can Cid destroy enemies with high damage output, his attacks can further cripple enemies by destroying their equipment, or status effects like Stop or Silence. To top it all off, Cid wears armor and can absorb a lot of punishment before going down. One could make the argument he doesn't even need his other teammates, and could be a one-man juggernaut on his own.
Sarah from Shining Force II may be the most unassuming member of the party, but don't let her demure appearance fool you. For the first half of Shining Force II, Sarah is the main and only healer for the team, and she is very competent. However, she truly comes into her own once she promotes into a Master Monk. In between throwing heals on the rest of the team, Sarah pummels her enemies with kicks and punches that would make even Cid flinch. By the end of Shining Force II, Sarah is one of the highest damage dealers in the party while also being able to fully heal her teammates.
This team is fully able to complement each other, and can out damage anything else while also being able to heal, tank, dodge, and apply debilitating status effects. If one goes down, all is not lost, as another can step up and cover their loss. However, with their ability to unleash hell upon their enemies, the Terrors should be able to kill anything before them without one going down.
Figaro Flywheels
GM: Kelley Ryan
Pick #5 in rounds 1 and 3; Pick #12 in rounds 2 and 4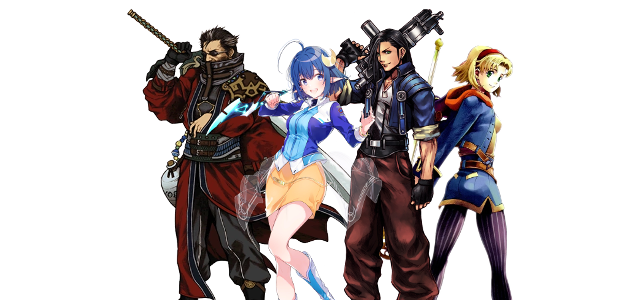 Auron (Final Fantasy X)

Cecilia Adlehyde (Wild Arms)

Rena Lanford (Star Ocean: The Second Story)

Laguna Loire (Final Fantasy VIII)
For my RPG League team, I wanted a traditional tank, healer, and double damage dealing setup.
Auron was my #1 draft pick and the clear winner for the tank spot. The man can take a beating, and anyone who's played Final Fantasy X knows why. He's also great at dishing out the pain. This is the man that told Hades himself off after all.
For my magic damage dealer, I went with Cecilia Adlehyde from Wild Arms. The ability to craft her own magic gives her a versatile edge. She also gets the ability to dual cast, making her even more powerful. Her guardian summoning abilities also make her a powerhouse for tough fights.
There was no shortage of healers to pick from. I ultimately went with Rena Lanford from Star Ocean 2 because of her vast spell range. She gets a nice mix of healing and damage spells, and paired with Cecilia's spell pool, I thought it would be nice to have the versatility of dual healing and damage.
Finally, I needed a ranged damage dealer. At first I thought I was going to have to go with one of the many Fire Emblem archers, but then I realized that guns could get the job done too. It was then that "Man with the Machine Gun" popped in my head, and my choice was clear. Laguna Loire would be my choice for ranged damage. OK, so he doesn't get much of a chance to shine in Final Fantasy VIII. I know for a fact, though, that his theme song is stuck in your head right now. With a song like that, maybe Laguna is secretly sub-classed as a bard? Either way, his song rules, and he's on my team now.
I am happy with my team synergy, and I hope to do well in the battles ahead.