The JRPGL – Final

The JRPGL reaches its climax with this, the final. Four divisions have seen whistled down the original field of sixteen RPGamer staff members drafting their choice of JRPG characters to form their own parties before facing off in a reader-decided contest. For those who wish to remind themselves of the rules, as well as read the introductions to all sixteen teams, can check our initial announcement post.
This post and the poll below will determine the winner of the final and thus the JRPGL as a whole. Voting will close at 7pm Eastern on Friday, June 7, 2019. Readers are asked to consider party balance when casting their vote, but otherwise have free choice over who they wish to pick. Our contesting parties and their members are as follows:
---
Alltrades Abbey Apollos (Division 1 winner)

Psaro the Manslayer (Dragon Quest IV)
Serena (Dragon Quest XI)
Kiefer (Dragon Quest VII)
Alena (Dragon Quest IV)
Terra's Terrors (Division 2 winner)
Terra Branford (Final Fantasy VI)
Canopus Wolph (Tactics Ogre)
Cidolfus Orlandeau (Final Fantasy Tactics)
Sarah (Shining Force II)
Zenobia White Wolves (Division 3 winner)
Chris Lightfellow (Suikoden III)
Lenneth (Valkyrie Profile)
2B (NieR: Automata)
Jane Maxwell (Wild Arms Alter Code F)
Alrest Flamebringers (Division 4 winner)

Shulk (Xenoblade Chronicles)
Mòrag Ladair (Xenoblade Chronicles 2)
Estelle Bright (The Legend of Heroes: Trails in the Sky)
Adelbert Steiner (Final Fantasy IX)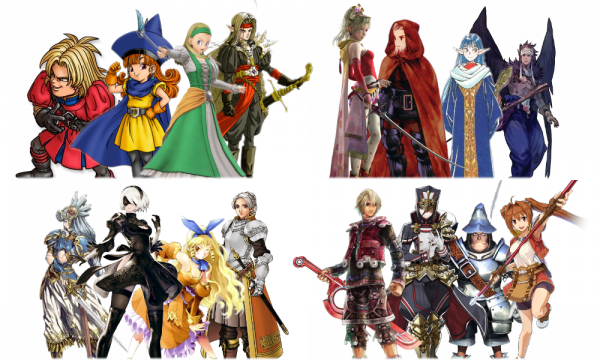 ---
If readers wish to learn more about the parties to help inform their decision, the full introductions provided by the GMs can be reviewed below.
Alltrades Abbey Apollos
GM: Matt Masem
Pick #14 in rounds 1 and 3; Pick #3 in rounds 2 and 4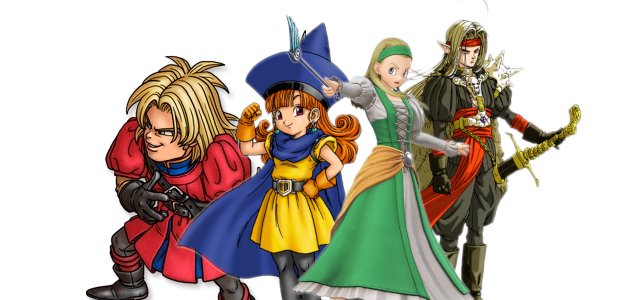 Psaro the Manslayer (Dragon Quest IV)

Serena (Dragon Quest XI)

Kiefer (Dragon Quest VII)

Alena (Dragon Quest IV)
The Alltrades Abbey Apollos is a Dragon Quest group ready to take on any opponent in the JRPG multiverse with mainly heavy physical attacks backed up with some powerful magic attacks and support skills and healing. The Apollos are led by the royal physical powerhouse pair of Dragon Quest VII's Prince Kiefer, son of Donald, and Dragon Quest IV's Tsarina Alena. Dragon Quest IV's antagonist-turned-hero Psaro the Manslayer provides more offensive firepower, and the team is rounded out by Dragon Quest XI's sage, Serena.
Prince Kiefer is a physical powerhouse that learns skills such as adding elemental damage to his sword attacks and focusing his power to double his attack skill. He's a bit of a roguish character prone to overindulging in women and wine, but his love of adventure and his need to help those in need make him the perfect prince to propel the Apollos to victory in any situation. Standing equally tall next to Kiefer is Tsarina Alena, master of hand-to-hand combat. Her natural speed augmented with some falcon blade earrings have her dealing critical hits to the enemy at an alarming rate. Her determined personality and need for exploring the world around her make her qualified to lead a group of adventures wherever they need to go.
With a title like "The Manslayer," one wouldn't expect Psaro to simply stand in the background casting buffs to increase attack power and fling his dark magic at the enemy. No, he's a physical powerhouse in his own right and can call upon the power of evolution to change into a monstrous five-eyed, laser-beam-shooting beast when the need arises as well as having access to single and multi-character healing spells. He's the complete package! That can almost be said of sage-like Serena. Due to story reasons, the Serena of Dragon Quest XI Act 2 not only has a full range of debuff and healing spells at her disposal, but a wide range of powerful elemental and light light-based spells as well. There are very few types of situations she's not prepared to take on and support her party members with her deep pool of magic and her calm demeanor keeping her focused on what's most important at all times.
Terra's Terrors

GM: Johnathan Stringer
Pick #9 in rounds 1 and 3; Pick #8 in rounds 2 and 4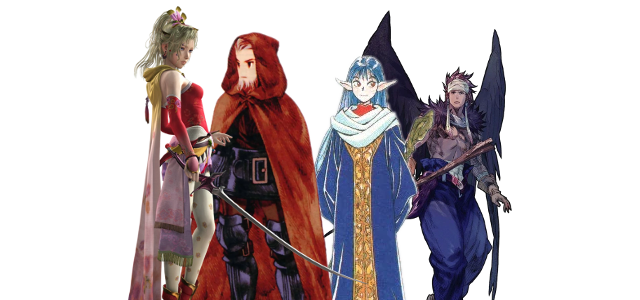 Terra Branford (Final Fantasy VI)

Canopus Wolph (Tactics Ogre)

Cidolfus Orlandeau (Final Fantasy Tactics)

Sarah (Shining Force II)
For the Terra's Terrors, I wanted a mixed team of well rounded yet still powerful characters from some of my favorite RPGs. If one goes down, I have a backup that can fill that void. First pick and team leader Terra Branford from Final Fantasy VI is part esper and part human, and that heritage gives her innate powerful magical abilities. She is a force with offensive magic, and will be the party's primary magic attacker. She becomes even more potent when put in a trance, and can unleash even more devastating magical strikes. That being said, she is no slouch with a sword and can stand toe-to-toe when the need calls. She can even be called in to heal in a pinch to support Sarah if she goes down.
Canopus, aka the Wind Caller, from Tactics Ogre is a versatile attacker and is the closest the game has to an over-powerful character. Canopus is a Hawk-man, and his ability to fly makes him a mobile striker from range, be it with a spear or bow, hitting vital targets and getting crits. His natural agility also makes him a difficult target, and very difficult to kill. Many enemies will waste attacks trying to pin Canopus down, which will save the party from taking damage and be less of a strain on the healers.
Thunder God Cid, Cidolfus Orlandeau from Final Fantasy Tactics, needs little introduction. His nickname is fitting, as he is truly the closest one can get to a "god character" in an RPG. Cid, with his Excalibur sword, has the special abilities of the Holy Knight, Dark Knight, and Divine Knight all in one, and each of those other 3 classes belong to powerful characters in their own right. Not only can Cid destroy enemies with high damage output, his attacks can further cripple enemies by destroying their equipment, or status effects like Stop or Silence. To top it all off, Cid wears armor and can absorb a lot of punishment before going down. One could make the argument he doesn't even need his other teammates, and could be a one-man juggernaut on his own.
Sarah from Shining Force II may be the most unassuming member of the party, but don't let her demure appearance fool you. For the first half of Shining Force II, Sarah is the main and only healer for the team, and she is very competent. However, she truly comes into her own once she promotes into a Master Monk. In between throwing heals on the rest of the team, Sarah pummels her enemies with kicks and punches that would make even Cid flinch. By the end of Shining Force II, Sarah is one of the highest damage dealers in the party while also being able to fully heal her teammates.
This team is fully able to complement each other, and can out damage anything else while also being able to heal, tank, dodge, and apply debilitating status effects. If one goes down, all is not lost, as another can step up and cover their loss. However, with their ability to unleash hell upon their enemies, the Terrors should be able to kill anything before them without one going down.
Zenobia White Wolves
GM: Ryan Radcliff
Pick #6 in rounds 1 and 3; Pick #11 in rounds 2 and 4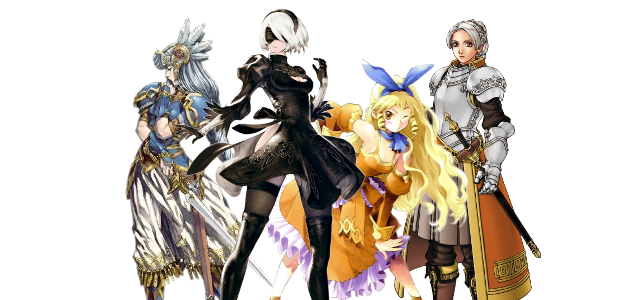 Chris Lightfellow (Suikoden III)

Lenneth (Valkyrie Profile)

2B (NieR: Automata)

Jane Maxwell (Wild Arms Alter Code F)
The Zenobia White Wolves are a formidable bunch and it starts with team captain Chris Lightfellow from Suikoden III. The Silver Maiden is able to control the tide of battle with her unstoppable Silent Lake spell, which immediately halts any magic from being used in the battle. If the White Wolves face an imposing mage, Silent Lake will neuter them. If the opponents don't rely on magic, she can use her True Water Rune to help heal her allies. Chris also brings to the table top end physical damage and is a reliable frontline fighter with many victories under her belt. A truly ferocious formidable female fighter.
Backing up Chris is Lenneth Valkyrie from the Valkyrie Profile series. Being the goddess of fate and present, this battle maiden was tasked with searching out worthy humans to help out in Ragnarok. She is a frontline fighter who has no weakness and her sword Levantine only fuels her strength the more damage she soaks up. Being a fighter that relies on physical damage, the lack of magic caused by Silent Lake will not slow her down one bit.
The wild card on the team is YoRHa No.2 Type B from NieR: Automata. Better known as 2B, this battle android is equipped with close- and long-range physical capabilities. Equipped with the game-breaking Auto Evade support chip, she is nigh untouchable. 2B is a combo specialist and loves to juggle foes in an array of stylish acrobatic finesse. Just don't make her execute her self-destruct mode, that sort of fan service is not needed in the tournament.
Finally, the team needs someone that can heal without relying on using magic to dish out cures. Enter one Calamity Jane Maxwell from Wild Arms: Alter Code F. She is a quick fighter who can boost and buff the team while also using her recovery items to keep the squad's health in the green. Luck is always on this sharpshooter's side, so watch out or she will steal your heart as well as your wallet.
Alrest Flamebringers

GM: Alex Fuller
Pick #11 in rounds 1 and 3; Pick #6 in rounds 2 and 4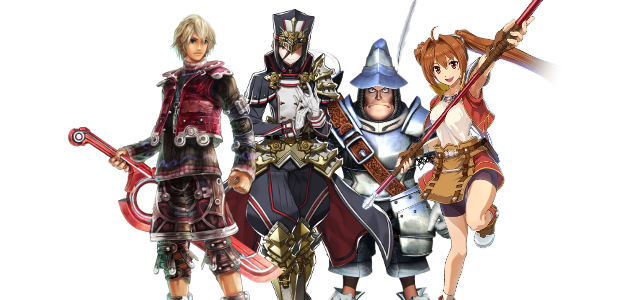 Shulk (Xenoblade Chronicles)

Mòrag Ladair (Xenoblade Chronicles 2)

Estelle Bright (The Legend of Heroes: Trails in the Sky)

Adelbert Steiner (Final Fantasy IX)
Every party needs at least one member to be the hero, and Shulk fills this role with aplomb. Going out of his way to help loved ones and fight for those in danger, while never losing his sense of understanding and love for everyone around him, he makes the perfect focus point of the Alrest Flamebringers.
Every hero needs some support and Mòrag Ladair provides this in multiple ways. The Flamebringers' namesake constantly shows why she fulfills such a trusted role, acting as a mature force. Her role as Special Inquisitor, with access to crack Blade squadrons, also gives the Alrest Flamebringers a leg up in fact-finding. Villains hiding in the shadows will not escape the gaze of the Alrest Flamebringers.
But sometimes, miscreants and other jerks simply need to be shouted out at and, if that fails, hit with a large stick. Estelle Bright excels at both of these. She also fulfills a strong support role and ensures that any wavering from the other party members will be quickly snuffed out. If nothing else, the Alrest Flamebringers offers the very best in strength of character.
While there was temptation to artificially slide in some magic for the purposes of balance, it's really not my style so instead the Alrest Flamebringers play to their strength of hitting things really hard with the addition of Adelbert Steiner. A tank who will not stop in his goals, he is loyal and will go through thick and thin for those he deems deserving of his trust. His loyalty may have blinded him to evil in the past, but that's hardly going to be an issue in the Flamebringers considering who his teammates are.