Dragon Star Varnir Limited Edition Announced, More Details Provided
Idea Factory International has announced a limited edition for its upcoming release of Compile Heart's Dragon Star Varnir. The edition will be available to purchase from Idea Factory International's online store for $74.99, with pre-orders opening on May 14, 2019. The edition includes:
Physical copy of Dragon Star Varnir for PlayStaton 4
Steel game case
56-page hardcover art book
12-track original soundtrack CD
9-card tarot card set
Reversible cover sleeve
Collector's Box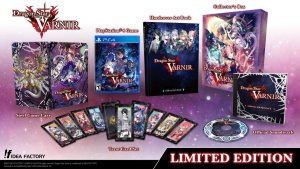 The publisher also provided new art and screenshots for the game as well as details on its quest and exploration systems and introductions to more characters. The Huntery is where players can collect new quests that they can undertake for various rewards. The Huntery also lets players access special items such as the Books of Formation, which let players use new formations that can provide various stat boosts in battle. However, these stat boosts may be accompanied by decreases in other stats.
Dungeons in Dragon Star Varnir include treasure chests and locked paths in addition to numerous enemies. Party members can unlock special abilities that will let players overcome the obstacles in their way. Players can use the party's brooms to travel faster and can also make elixirs to gain access to rare treasures. Elixirs are created by mixing items found in dungeons — such as monster drops like claws, bones, etc. — with a special catalyst that determines the type and rarity. Once the elixir is made, a character can be chosen to drink it, which will cause a special dragon to be summoned. Defeating the dragon causes the special equipment to be dropped. If palyers are unable to defeat the dragon they can attempt to fight it later without losing the elixir.
Finally, Idea Factory International provided four more character descriptions. Corberia is the commander of the Knights of Requiem, who are in charge of hunting down witches. She is calculated and cruel and enjoys torturing her quarry. Ruby Eye is the leader of a group of dragon hunters called the Ravens. Her nickname comes from the ruby in her right eye and her real name is unknown. Pharisaeus is the current ruler of the world. However, he rarely appears in public ruling through his subordinates Sehrud and Corberia. Finally, Sehrud is a cardinal of the Holy Empire and is in charge of most of the day-to-day running of the nation.
Developed by Compile Heart and released in Japan in 2018 under the title Varnir of the Dragon Star: Ecdysis of the Dragon, Dragon Star Varnir stars Zephy, a knight who becomes lost in a remote forest. He is rescued by a witch, but in the process drinks the blood of a dragon that attacked him, causing a special power to awaken. The game will be released exclusively for PlayStation 4 in North America on June 11, 2019, with the European release following on June 14, 2019.