Fire Emblem: Three Houses Set for July, Details Revealed
Nintendo devoted a portion of its recent Nintendo Direct presentation to upcoming tactical RPG Fire Emblem: Three Houses. In addition to providing details about the game's story, Nintendo announced that the game will be released worldwide for Nintendo Switch on July 26, 2019. The game will available in standard physical and digital editions as well as in a special Seasons of Warfare Edition that includes:
Physical copy of Fire Emblem: Three Houses
SteelBook case
Soundtrack selection CD
Hardcover art book
2020 calendar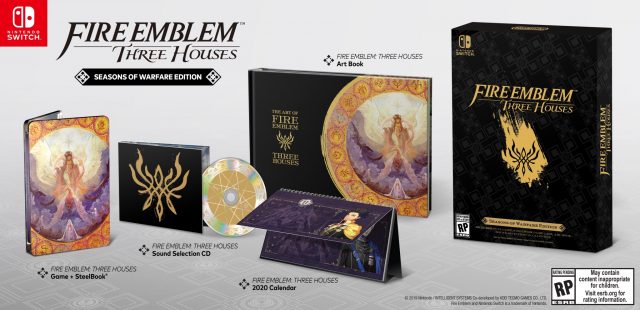 Fire Emblem: Three Houses puts players in the role of a mercenary who is recruited to be become an instructor for the Officer's Academy at Garreg Mach Monastery. The monastery sits in the middle of the continent of Fódlan, inbetween its three main powers: the Adrestian Empire, the Kingdom of Faerghus, and the Leicester Alliance. It is the home of the Church of Seiros and the Knights of Seiros, which aims to maintain order in Fódlan.
The Officer's Academy is split into three houses, each representing one of the continent's powers: the Black Eagles for the Adrestian Empire, the Blue Lions for the Kingdom of Faerghus, and the Golden Deer for the Leicester Alliance. Players choose one of these houses to lead the students of. Each house has its own leader of high standing in their respective nations. Edelgard, heir apparent of the empire, leading the Black Eagles; Prince Dimitri leading the Blue Lions; and Claude, heir of family in charge of the Leicester Alliance, leading the Golden Deer.
Students of the Officer's Academy are expected to travel across the continent and gain real battle experience on missions such as defeating bandits or suppressing rebellions. Players can tutor their students, increasing their ability with magic or weapons, or learning new skills. Students can also interact with each other and strengthen their bonds, resulting in support options in battle.