Metal Max Xeno Set for September
NIS America has announced that Kadokawa Games' Metal Max Xeno will be released in North America on September 25, 2018, with its European release following a few days later on September 28, 2018. The game will be available exclusively on PlayStation 4 both physically and digitally. A limited edition is currently available to pre-order for $59.99 from NIS America's online store and contains:
Physical copy of Metal Max Xeno for PS4
Iron Base pin
Original soundtrack CD
Art book
Collector's box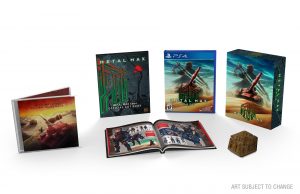 Although set in the same post-apocalyptic world as the previous games in the series, Metal Max Xeno marks a bit of a refresh, taking place in a different time and location with some adjustments made to its history. The game was released in Japan in April 2018, for PlayStation 4 and PlayStation Vita. The PlayStation Vita version is not set to be released outside of Japan.