Octopath Traveler II Announced
Square Enix announced Octopath Traveler II, a new entry in its HD-2D RPG series. The game is being developed for PC, PlayStation 4, PlayStation 5, and Nintendo Switch and is set to release on February 24, 2023. It will be available physically and digitally, including as a $179.99 physical Collector's Edition. The Collector's Edition is available to pre-order from Square Enix's online store and includes:
Octopath Traveler II physical standard edition for PlayStation 4, PlayStation 5, or Nintendo Switch
Eight bust figurine set of the game's eight protagonists
44-page art book
Mini soundtrack CD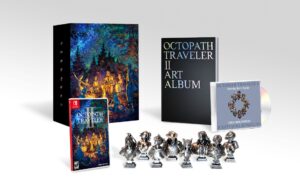 Octopath Traveler II tells a new story set in the new world of Solistia. The game follows the intertwined stories of eight protagonist, each with their own class: Hikari (Warrior), Agnea (Dancer), Partitio (Merchant), Osvald (Scholar), Throné (Thief), Temenos (Cleric), Ochette (Hunter), and Castti (Apothecary). The game features the return of the Break & Boost battle system of Octopath Traveler, as well as its path actions, where each protagonist has unique interactions with various NPCs. The game will also include a day/night cycle, as well as a new Latent Power combat element and additional Crossed Paths stories between the protagonists.