Babylon's Fall Gets Combat 101 Trailer
Square Enix and PlatinumGames released a new trailer for action RPG Babylon's Fall ahead of the launch of the game's free demo on February 25, 2022. The three-minute Combat 101 trailer shows how players are able to wield an array of weapons and the advantages of each type, as well as their special dynamis abilities.
In addition, Square Enix provided a roadmap for the content players will receive as part of the Season 1 Premium Battle Pass, which will be available for free to all players (subsequent Seasons will be paid). A new Duels game mode will release on March 7, 2022, with a large-scale update following on March 22, 2022, that includes a new enemy faction, a new weapon type, new story content, a new Gauntlet game mode, and more. March 29, 2022, will see a NieR: Automata collaboration with the addition of costumes, enemies, and a dungeon inspired by the game. Finally, April 26, 2022, will feature further story content.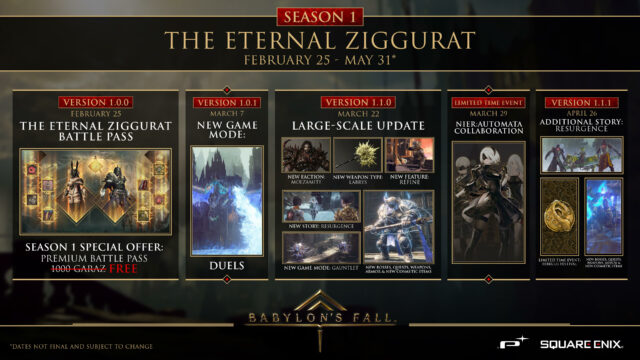 Babylon's Fall puts players in control of warriors known as sentinels. They are bonded to equipment called Gideon Coffins — which let them wield four weapons at once — and attempt to overcome the massive Tower of Babylon, which is said to house a great legacy. Babylon's Fall will launch worldwide on March 3, 2022, on PC via Steam, PlayStation 4, and PlayStation 5. Those who pre-order the game's Digital Deluxe Edition will receive early access to the full game from February 28, 2022.