Fallen Legion Revenants Announced
NIS America and YummyYummyTummy have announced Fallen Legion Revenants. A follow-up to 2017's dual-title Fallen Legion, Fallen Legion Revenants is set to be released for PlayStation 4 and Nintendo Switch in 2021. A limited Exemplary Edition is currently available to pre-order from NIS America's online store, which is priced at $74.99 and includes:
Fallen Legion Revenants for PlayStation 4 or Nintendo Switch
Songs for a Fallen World digital soundtrack
Lucien's Lost Ledger manual/art book
Rowena's Battle Atlas hardcover art book
Exemplar Info Cards, a set of 3 double-sided art cards
Dealt Fate card deck
Pumpkee rubber keychain
Collector's box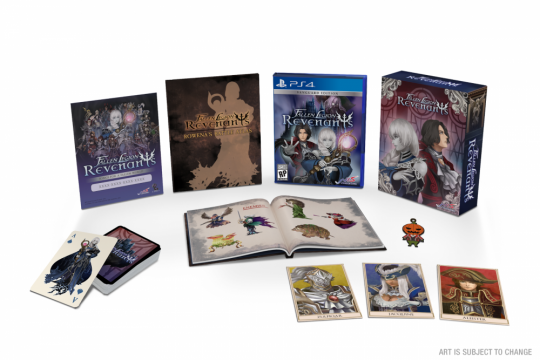 Fallen Legion Revenants is set in a world covered in miasma, with the remaining human population retreating to a floating castle. Players swap between a cunning man called Lucien (voiced by Joe Zieja) and a vengeful woman called Rowena (voiced by Erika Harlacher), as they manipulate events at the castle in addition to fighting monsters in the lands below. The game appears to have similar combat to the previous title, with players commanding a party of three fighters in side-on real-time battles.