Stranded Sails Signature Edition Announced
Merge Games has announced that it will be produced a physical edition for adventure farming sim title Stranded Sails: Explorers of the Cursed Islands under its Signature Edition Games label. The edition is available to pre-order now, priced at £34.99, and includes:
A region-free copy of the game for PlayStation 4 or Nintendo Switch
Art card
Numbered certificate
Art book
Enamel Parrot pin
Enamel Fritz pin
Enamel Anchor keyring
Treasure map
Limited-edition coin (pre-orders only)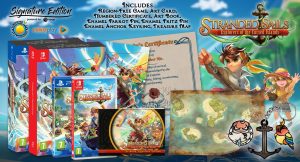 Developed by Lemonbomb Entertainment and published digitally by rokapublish, Stranded Sails puts player in the role of the son or daughter of a ship's captain after its crew are shipwrecked in an archipelago. With the captain injured, players take on the role of the leader of the survivors, establishing a farm to provide food and investigating the islands for treasure and to uncover the archipelago's secrets while keeping the crew alive. The game is set to be released for PC, PlayStation 4, Xbox One, and Nintendo Switch later this year.