Dungeons & Dragons: Heroes
The RPG grandfather's latest incarnation is an action RPG from Infogrames. However this effort is far from a Gauntlet clone and introduces new and innovative play mechanics.
Releases
Date:

Region:
Platform:
Publisher:
Developer:

2003-09-16
Reviews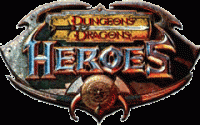 RPGamer shares its opinion on the latest D&D hybrid title. Do you agree?
Game Content
No articles for this game