Star Ocean: The Second Story R Announced
Square Enix has announced Star Ocean: The Second Story R, a new remake of the second game in the Star Ocean science-fantasy RPG series. Star Ocean: The Second Story R will feature 2.5D graphics and release on PC, PlayStation 4, PlayStation 5, and Nintendo Switch on November 2, 2023. The console versions will be available physically, including a Collector's Edition exclusive to the Square Enix online store that includes:
Standard physical edition copy of Star Ocean: The Second Story R for PlayStation 4, PlayStation 5, or Nintendo Switch
Four-disc original soundtrack with special Collector's Edition sleeve case (soundtrack will also be released separately)
40-page art book
Mini acrylic stand collection box containing 24 pieces with pixel art of the game's main characters (each piece is 8mm thick)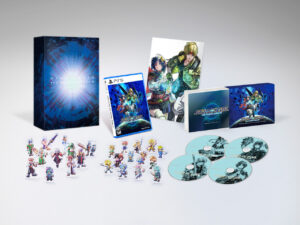 Star Ocean: The Second Story was originally developed by tri-Ace and released for PlayStation in Japan in 1999, followed by North America in 2000 and Europe in 2001. An enhanced remaster, Star Ocean: Second Evolution, was developed by Tose and released for PlayStation Portable in Japan in 2008 and in North America and Europe in 2009. PlayStation 4, PlayStation Vita, and PlayStation 3 versions were also released in Japan.
Star Ocean: The Second Story follows two main characters — Claude and Rena — and is set twenty years after the events of the first game on the planet Expel. Claude is a Federation officer who finds himself transported to the undeveloped planet, while Rena is a native who draws Claude into a quest to save her people in line with an ancient prophecy. Players select which of the two acts as the primary protagonist, which changes the perspective at certain points as well as the recruitable characters. Like other titles in the series, it features a party-based action combat system.
The Star Ocean: The Second Story R release will include Japanese and English text and voiceovers performed by the original cast, with French, Italian, German, and Spanish subtitle support to be added in a software update at launch. The remake will also include a fully rearranged soundtrack, rearranged by original composer Motoi Sakuraba, as well as new character illustrations from Yukihiro Kajimoto.