The DioField Chronicle Worldwide Date Confirmed; Demo, Collector's Edition Announced
Square Enix has confirmed that the recently announced Japanese release date for The DioField Chronicle also applies to its North American and Europe releases. The real-time tactical RPG will launch for PC, PlayStation 4, PlayStation 5, Xbox One, Xbox Series X|S, and Nintendo Switch on September 22, 2022. It will be available digitally on all platforms as well as physically on consoles. A physical Collector's Edition is available to pre-order exclusively from the Square Enix online store in North America and Europe. The Collector's Edition is priced at $169.99 and includes:
Standard physical copy of The DioField Chronicle on PlayStation 4, PlayStation 5, Xbox One / Xbox Series X|S, or Nintendo Switch
Collector's Goods Box
The DioField Chronicle Board Game — a two-to-four-player competitive board game
Set of four coat-of-arms pins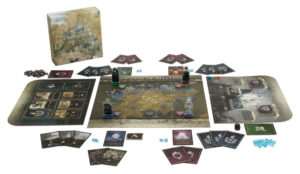 In addition, Square Enix announced that a demo will be released on August 10, 2022. The demo will let players access the opening sections of the game, with save progress able to be transferred to the full game when it releases.
The DioField Chronicle is set on a continent ravaged by a war between the Empire and the Alliance. DioField Island's Kingdom of Alletain is the only nation so far to have avoided the bloodshed, but soon finds itself drawn into the conflict due to its abundance of Jade, a mineral vital as an ingredient in magic.
Players control Andrias, the leader of a mercenary group called the Blue Fox. He is joined by Frederet, Andrias' childhood friend who rides into combat on horseback, as well as the archer and minor noble Iscarion, and talented magic user Waltaquin. The game's combat features Real Time Tactical Battles (RTTB), which play out in real time. Players can pause the action to survey the battlefield and give orders. In addition to strategy, players will need to make use of different skills, troop types, and equipment to emerge victorious.