New Release Round-Up (June 30, 2022)
Welcome to RPGamer's new release round-up. In this column we look to provide our readers with details on all of the RPGs released over the week. Please note we do not currently include Early Access releases where the game is still in development.
---
Disgaea 6 Complete

Disgaea 6 Complete includes all of the game's character and cosmetic DLC for the Nintendo Switch release Disgaea 6: Defiance of Destiny. The tactical RPG follows Zed, a zombie who has a special technique that helps him best the current world-shattering threat, the God of Destruction. Those looking to read more about Disgaea 6 can check out Pascal Tekaia's review of its Nintendo Switch version.
---
Gamedec
Cyberpunk detective RPG Gamedec is based on the novels by Marcin Przybyłek and released for PC in 2021. The game takes place in the 22nd century and sees players acting as a private detective tasked with solving crimes that occur in an assortment of virtual worlds. Those looking to read more about Gamedec can check out Pascal Tekaia's review of its PC version.
---
Little Noah: Scion of Paradise
Casual action roguelite Little Noah: Scion of Paradise follows self-proclaimed genius alchemist Noah and mysterious cat Zipper as they journey through a set of ruins. On their adventure, the duo can recruit allies known as Lilliputs and use their attacks in combination with others. The game's dungeons are randomly generated with bosses lying in wait on the lower levels. Should Noah get knocked out, her Lilliputs and any accessories she found are converted into mana, which is used to repair her airship and upgrade her abilities.
---
Mercenaries Rebirth: Call of the Wild Lynx
Tactical RPG Mercenaries Rebirth: Call of the Wild Lynx is the sixth entry in the Mercenaries series and is set around the kingdom of Astras, which is undergoing a succession crisis. The game features isometric turn-based tactical combat with 3D maps where height is a factor. The main protagonist is Irvin, former leader of a famous mercenary group who now acts as a lone wolf but retains a strong sense of loyalty to his clients. Those looking to read more about Mercenaries Rebirth can check out RPGamer's review of the Nintendo Switch release.
---
Monster Hunter Rise: Sunbreak
Monster Hunter Rise: Sunbreak is the expansion to action RPG Monster Hunter Rise, which won RPGamer's 2021 Game of the Year Award. Sunbreak includes a new storyline that takes players to the new hub area of Elgado Outpost, a port that is home to a laboratory researching the abnormal monster activity. It also features new locations, new monsters, a new quest rank, and new gameplay features, with a number of free post-release updates also planned.
---
Roguebook
Roguelike deckbuilder Roguebook is co-designed by Magic: The Gathering creator Richard Garfield. Players must choose two of the game's heroes to take into battle, then play cards to activate their individual abilities. The game includes a chapter-based campaign, which requires that players restart after being defeated, but with permanent upgrades available. Those looking to read more about Roguebook can check out Zack Webster's Deep Look of its PC version.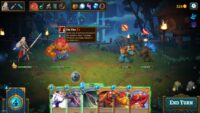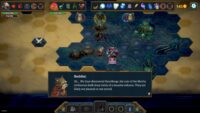 ---
Sales Links