Blue Reflection: Second Light Gets November Western Release Date
Koei Tecmo announced that Gust's Blue Reflection: Second Light will be released in North America and Europe on November 9, 2021. The game will be released for PC, PlayStation 4, and Nintendo Switch. A $129.99 physical Limited Edition is available to pre-order from NIS America's online store that contains:
Physical copy of Blue Reflection: Second Light for PlayStation 4 or Nintendo Switch
B2-size cloth poster
Academy notebook-styled photo album
Everyone's Memories Album art book
Two acrylic mini character charms
Ao: Ryza style costume download code
Collector's box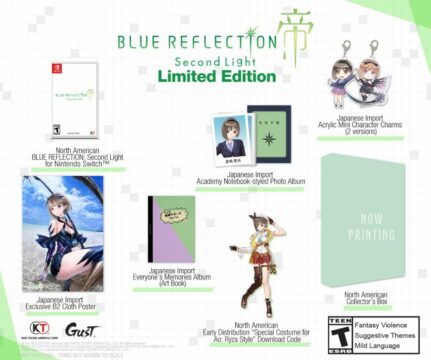 Blue Reflection: Second Light is a sequel to Blue Reflection. The game follows Ao Hoshizaki, a girl who attends summer school for supplementary classes and becomes lost in an unknown world. She meets three girls — Kokoro Utsubo, Yuki Kinjou, and Renya Miyauchi — who have lost their memories and live in an isolated school surrounded by water. One day, a path and portal leading to another world appear and the girls decide to go through it. They eventually come across a monster and unlock a power that lets them fight back.