Sword of the Necromancer Physical Release Revealed
Developer Grimorio of Games, publisher JanduSoft, and distributor Tesura Games announced physical editions for action roguelike Sword of the Necromancer. The game is available to pre-order now in limited quantities through Ultra Collectors and expected to ship in July 2021. A standard edition is available for €29.99 on PlayStation 4 or €34.99 on Nintendo Switch, with an Ultra Collectors Edition available for €54.99 on PlayStation 4 or €59.99 on Nintendo Switch that contains:
A physical copy of the game
Full-color instruction booklet
33-track original soundtrack CD
Art book
Eight IR cards
Individually numbered collector's certificate
Collector's box
DLC download code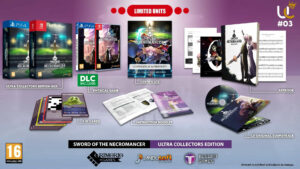 Sword of the Necromancer follows Tama, a rogue tasked with escorting priestess Koko on her continental pilgrimage. Unfortunately, Koko dies on their travels, and Tama carries her body to the Necromancer's crypt, where the power to resurrect the dead is said to lie. Two-player local co-op can also be unlocked through an item called the Flask of the Homunculus, which creates a copy of Tama. The game also features IR card implementation, which can be used to adjust the difficulty. Those looking to read more about Sword of the Necromancer can check out Luis Mauricio's review of the PlayStation 4 version.